A-List Names Emerge To Replace Rupert Wyatt On 'Dawn Of The Planet Of The Apes'
20th Century Fox lines up a bevy of respected talent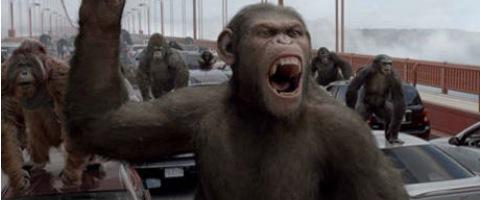 In our opinion, "Rise of the Planet Of the Apes" was one of the best (mainstream) movies of 2011. Admittedly, that may not be saying much. Still, the Rupert Wyatt-directed reboot packed way more pathos, action, and slick craftsmanship than what might otherwise have been expected into what could have been a by-the-numbers retread. So it saddened us to hear that Wyatt, unable or unwilling to meet its sequel's expected May 23, 2014 release date, had left the franchise for good.
According to
Deadline
, however, 20th Century Fox has lined up an impressive list of talented directors as potential replacements. Among the names mentioned, "Cloverfield" and "Let Me In" auteur Matt Reeves may be the top contender, at least for now. Judging from his adept integration of CGI into the former's shaky hand-held aesthetic, and his subtle character work in the latter, we think he would be a fine choice. Also possibilities? "Hellboy" and "Pacific Rim" auteur Guillermo del Toro—good luck getting
him
 to commit—"Looper" auteur Rian Johnson—who might be too independent for this, such mainstream studio fare—"28 Weeks Later's" Juan Carlos Fresnadillo—whom we'd have to admit would also be awesome—and a bunch of other long-shots and nobodies, like J Blakeson, Jeff Nichols, and Juan Anionio Bayona, whomever they are.
What do you think, Hitlisters? Would Reeves be a good choice to oversee the franchise's next installment? Is "Dawn of the Planet of the Apes" a needlessly ponderous title? Can't they just call the next one "Planet of the Apes" and get it over with, already? Or would that be the third film in the series... And whom else would make a good choice to direct the film? As always, let us know in the comments...