First Ever Cinerama Festival Coming to Hollywood
12 Cinerama features will be screened to celebrate the 60th anniversary of this wide-screen process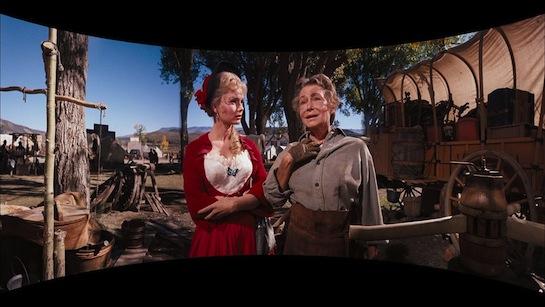 Are you familiar with the amazing wide-screen Cinerama process that was popular for about ten years starting with the release of "This Is Cinerama" in 1952? It involved projecting three synchronized 35mm films on a gigantic deeply curved screen so that it filled your peripheral vision and you felt like you were really immersed in the image. Only a few films were made using this cumbersome process, many of them glorified travelogues, but if you ever get a chance to see a film actually projected in this system, it's really something to behold. That's why I'm so excited about the Cinerama film festival that begins this Friday, September 28, at Arclight's historic Cinerama Dome in Hollywood, one of only three theaters in the world that is still capable of showing Cinerama films using the original three-projector system.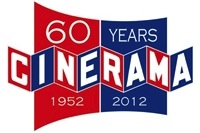 To celebrate the 60th anniversary of Cinerama, the Dome will be screening 12 classic Cinerama productions, some in the original three-strip projection and some presented digitally for the first time from the remastered negatives. This is a very rare opportunity, folks. Click here to purchase tickets and here to check out the complete schedule.
I've been lucky enough to see "How the West Was Won," in my opinion the best film ever made using the Cinerama process, twice at the Dome. With different sections of the film directed by John Ford, Henry Hathaway, and George Marshall, the epic historical film, released in 1962, is narrated by Spencer Tracy and stars Jimmy Stewart, Debbie Reynolds, Thelma Ritter, John Wayne, Henry Fonda, Carroll Baker, and many others. Following four generations of an American family as they move ever westward, the film is absolutely breathtaking.
Bing: Cinerama Process | Cinerama Dome Theater
One of the main problems with three-strip Cinerama was trying to avoid those pesky lines that tended to appear between the three separate film images as they were synchronized on the giant screen. Filmmakers resorted to creative ways to minimize that but the borders of each image were often noticeable, one of the reasons why Cinerama didn't last longer than it did. But when it works, boy, you can't ask for a more complete movie experience—in my opinion, it beats 3D IMAX by a mile!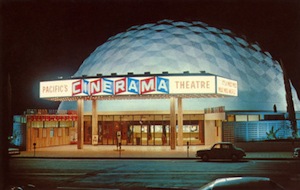 Other films being presented using the Dome's synchronized Cinerama projectors include "Search for Paradise" (1957), "The Wonderful World of the Brothers Grimm" (1962), and the one that started in all, "This Is Cinerama." The festival will also feature the world premiere of "In the Picture," the first film photographed in three-strip Cinerama in 50 years! You can see that film for free at the Dome on Friday morning at 10:00 am. If you've never been to the Cinerama Dome, on Sunset Boulevard just west of Vine, it's definitely worth a look. Designed specifically to project Cinerama, the Dome features a huge 126-degree curved screen. Made of 316 hexagons and pentagons, the Dome is the only concrete geodesic dome in the world.