New International Trailer for 'The Amazing Spider-Man' Swings Onto the Interwebs
New Japanese trailer reveals a bit more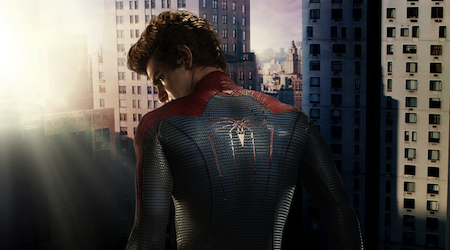 While the world might not have been crying out for yet another film that explores the origins of Peter Parker and his alter-ego The Amazing Spider-Man (Spidey for short!), a production that comes from "(500) Days of Summer" director Marc Webb and stars Andrew Garfield as the boy wonder just might get by on its own merits. 
In this summer's latest Spidey-hero offering, Garfield plays goofy Peter as he explores the mystery of his absent parents, makes googly eyes at Gwen Stacy (Emma Stone), and - oh yeah - deals with the fallout of being bitten by a radioactive spider. Along the way, he comes against one of Spider-Man's most famous foes - Dr. Curt Connors (better known as the Lizard). Will Webb's take on the Spider-Man mythos set it apart from the Tobey Maguire-starring franchise that ended less than half a decade ago? We'll just have to wait and see.
The film also stars Martin Sheen, Rhys Ifans, Sally Field, and Denis Leary. 
"The Amazing Spider-Man" opens on July 3. Check out the film's latest international trailer, thanks to
Deadline
, after the break.