A star-making role? Theo James set to star as male lead in 'Divergent'
Is he the next Robert Pattinson?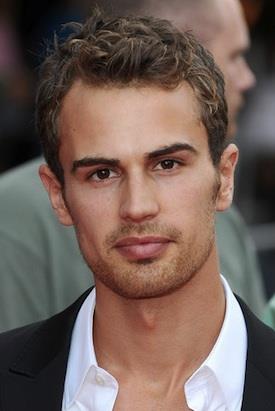 The home of "The Twilight Saga," Summit Entertainment is betting on their next major YA franchise to keep them on top of the heap, and "Divergent," from Veronica Roth's bestselling (and, it must be noted, quite consuming) novel of the same name looks to be the one to ensure they'll stay there. The first film (Roth is in the process of finishing a trilogy) already has rising star Shailene Woodley set to star as Beatrice "Tris" Prior in the dystopian YA thriller, but the feature has long needed to cast its male lead, Four.
And, look! They've done it! The studio has just announced today that Theo James will star as the male foil to Tris, a big, meaty part for the relatively unproven actor that should continue to raise his stock.
A Brit, James is best known for his work in the new television series "Golden Boy" and the popular British series "Bedlam" and "Downton Abbey," along with roles in movies like "Underworld: Awakening," "The Inbetweeners Movie," and "You Will Meet a Tall Dark Stranger." About the casting, Erik Feig, Lionsgate Motion Picture Group's President of Production, said "We took our time to find the right actor to fill the role of Four, and Theo is definitely the perfect fit...Veronica has crafted a truly iconic character in Four and we cannot wait to begin production and bring him and this story to life for millions of fans around the world."
Other actors who had most recently been rumored for the part included Lucas Till and Alex Pettyfer, making James an unexpected (but, really, not necessarily bad) choice for Four.
Per the press release from Summit Entertainment, "Divergent" is "a thrilling adventure set in a future world where people are divided into distinct factions based on their personalities, Tris Prior is warned she is Divergent and will never fit into any one group. When she discovers a conspiracy to destroy all Divergents, she must find out what makes being Divergent so dangerous before it's too late." The world that Tris lives in is rigidly divided into these factions, though every sixteen-year-old is required to choose the faction that they will presumably live the rest of their lives in (much like pledging a sorority or a fraternity, the teens' decision to join a faction doesn't guarantee that they will ultimately get in, and they must all undergo strict training to prove themselves). Once she picks the intense, thrill-seeking Dauntless faction, Tris is trained by Four, who is described as "a man with a mysterious past" and "intense yet charismatic."
"Divergent" will hit theaters on March 21, 2014. The final book in Roth's series will arrive on book shelves in October of this year.
Are you sure you want to delete this comment?