Videodrone Cult Watch: The Nazi zombies of Jess Franco and Jean Rollin
'Zombie Lake' and 'Oasis of the Zombies' remastered because... well, just because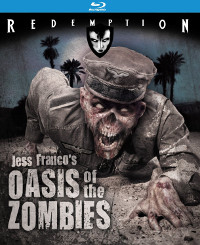 For reasons that defy rational explanation, a bizarre subgenre of the Euro-zombie craze of the seventies and eighties came up with the ultimate living dead horror: the Nazi zombie. Two of the most notorious arrive this week in newly remastered editions.
"Oasis of the Zombies" (Kino), a 1983 French zombie film helmed by Spanish director Jess Franco, is a piece of cheap, gruesome exploitation about Nazi gold buried in the African desert, the college kids that race a ruthless veteran for it, and the undead army that guards it. Franco directed an estimated 200 plus films under a score of aliases in a career that is still active more than 50 years after his debut, so you can assume that more than a few were fairly tossed off. Which is not to say it lacks entertainment value, merely that the distracted, sloppy camerawork, perfunctory scripting, flat dubbing, and ratty make-up make this one for the Franco-philes, and for those who find camp value in clumsy, shamelessly brazen exploitation. Say, just how do those zombies bury themselves back in the sand every sunrise?
Franco is a real cult director and this production has been given more loving attention that it probably received on its first release. It's been newly mastered in HD from the archival negatives for Blu-ray and DVD, which means it's not restored but is quite vivid behind the scuffs and minor wear, and presented with original French and English dub soundtracks. Also features trailers from this and other Jess Franco films.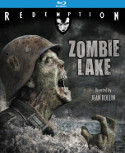 Franco was also supposed to direct the earlier "Zombie Lake" (Kino), another 1980 French film with Nazi zombies from the same producers, Marius Lesoeur and Daniel Lesoeur. He wrote the script, something about a reporter investigating the secret behind "The Lake of Ghosts" in a small French lakeside town where dead, green-faced zombies are killing the local girls, but Jean Rollin was brought in to direct (under the pseudonym J.A. Laser). The underwater scenes are oddly lovely and the weird reunion between a sentimental zombie soldier and his living French daughter is as tweaky as it gets: the green faced corpse strolls down a country lane hand in hand with the cloying moppet to maudlin music. Wow. But Rollin's dreamy, surreal touch is almost nowhere to be seen throughout the rest of this clumsy, blunt production. The make-up wouldn't pass muster at a pre-school Halloween party, the performances are embarrassingly amateur, and dubbing is so bad it's painful. Which is to say, in some circles, this is considered an exploitation classic.
Continue reading at Videodrone
For more releases, see Hot Tips and Top Picks: DVDs, Blu-rays and streaming video for week of February 26