Interview: Will Smith of 'Men in Black III'
'We just wanted to make sure that we were making a movie that was great on its own ...'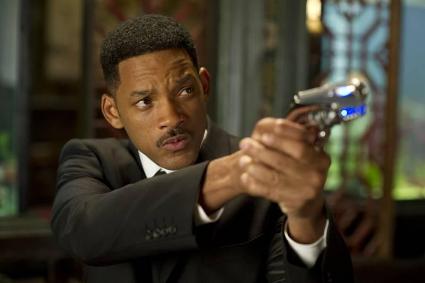 Once upon a time, TV-star and recording artist Will Smith felt like becoming one of the biggest movie  stars in the world, and so he did. One of the most important films in that process was 1997's "Men in Black," which saw Smith teamed up with Tommy Lee Jones in pursuit of space aliens on Earth. Full of the kind of action that sells worldwide -- and with Smith proving he could get laughs on the big screen, as well -- it was followed by a sequel in 2002 with a follow-up coming out this week 10 years later. The pre-production was rumored to be challenged -- but the end result saw Smith's Agent J sent back to 1969 to prevent his current partner Agent K (Tommy Lee Jones) from being killed by a time-travelling alien bad guy... in 3D. It's a pitch that not only allows for Josh Brolin to impress as the younger version of K, but also that, as Smith notes "was the perfect idea" to keep the movies where they work best, "when Agent J is a fish out of water." We spoke with Smith in L.A.
More on Bing: Alien Translation
It's been fourteen years between the first film, and this, the third. Were you literally just waiting for the right circumstance, the right story, the right script?
Smith: When you're going to do a third movie ... people tend to make a great one, and then go down, and then it goes up. We just wanted to make sure that we were making a movie that was great on its own, not great because it was a part of the other films, like it needs one and two to be good. This was the first idea that felt like it was a complete idea on its own.
A lot of big franchises like this, a studio will switch out directors, but Barry Sonnenfeld has always been there. Is he kind of a secret weapon?
Smith: You know, there is a very distinct comedic voice that is Barry Sonnenfeld. You really couldn't make these movies -- for sure not the way that they are -- without Barry Sonnenfeld. He came out of the world of the Coen brothers, so there's just a slight twisted point of view. It's like the way he creates helps me create Agent J, with things I would never do on my own ... some of the jokes and the way that they are are very distinctly Barry.
I love the fact that Agent J, when he uses the memory-erasing neuralyzer, is kind of like this evil guidance counselor -- he tries to guide people on the right way. Is that stuff fun to do, all that human stuff in among all the special effects and the gadgets?
Smith: Yeah -- what Barry does great with "Men in Black" is ... nothing can exist only for a technical reason. There's a neuralyzer, so he's always looking for why does the character want that neuralyzer, why does the character need that neuralyzer? The people of it are a part of what is a special gift of (Barry Sonnenfeld's)  in this creation. The choice of the aliens in 1969 ... they're retro aliens, so they look like aliens look in movies in 1969. It's just so clever. I really appreciate that stuff.

More on Bing: Watch the 'Men in Black 3' Trailer
Was the whole back in time thing, the whole "Mad Men in Black," part of it?
Smith: Taking it back was a necessity for us, for Agent J. What we discovered is the best way for Agent J and Agent K to interact is when Agent J is a fish out of water. Part of the idea is trying to figure out how to get back to the dynamic where Agent K is in the know, and Agent J is just behind trying to catch up. The time travel was the perfect idea that dropped us into what was the greatest comedic dynamic. ...
("Men in Black III " opens this Friday.)