Paul Rudd and Tina Fey finally co-star in 'Admission'
And Michael Sheen, too, just for good measure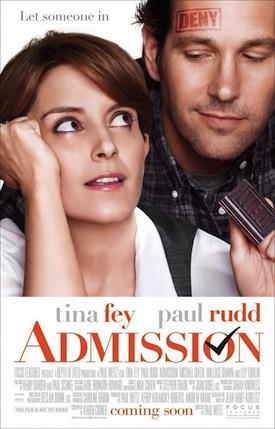 There is a nifty little tool on the popular website IMDb (that's the Internet Movie Database, and yup, that's precisely what it is) that allows users to enter the name of two talents (be they actors, writer, directors, all the way down to boom operators) to see a full list of projects they've worked on together. It's a fun way to run remember minor trivia (and a really good way to win Six Degrees of Kevin Bacon), but it's also a great way to turn up shocking truths that Hollywood doesn't want you to know.
Bing: 
'Admission'
|
Tina Fey
Like that Tina Fey and Paul Rudd have never done a project together. No, seriously. You can't believe it, right? Check it out,
right here
. But, lo, Kate!, you say, there is one project there! You are wrong! Well, that one project, Paul Weitz's "Admission" isn't here yet...and it's also why we're here right now. Finally! Fey and Rudd in one project! As leading lady and main man, no less! This is the project you had no idea you actually desired, because you too did not realize that Fey and Rudd had never starred together (unless you did know, and then kudos to you).
The plot of "Admission" might sound a bit silly without such strong talent behind it - as of now, it looks quite charming and sweet, and will likely fall to the side of "feel-good" (possibly even for the whole family!). Fey stars as Princeton admissions officer Portia Nathan, who is gunning for a big promotion (which is convenient, because it doesn't appear that she has much of a life beyond her work) who falls in with Rudd's single dad on a mission. There relationship, however, doesn't appear to be the heart of the film - Rudd's character also believes he's been mentoring a teenage boy who could possibly be the kid that Portia gave up when she was back in high school. Cue confusion, possible hijinks, and heart-warming situations. It just looks like a charmer.
Check out the first trailer for "Admission" after the break, thanks to
Yahoo! Movies
.