Videodrone MOD Movies: Ann Sothern is 'Maisie'
Plus Raquel Welch, Charlton Heston, and Richard Widmark on the run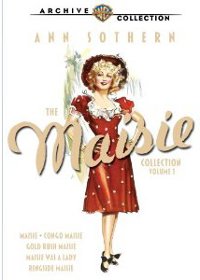 "The Maisie Collection: Volume 1" (Warner Archive) – Ann Sothern played brassy Brooklyn showgirl Mary Anastasia O'Connor, aka Maisie Ravier, in "Maisie" (1939), the comedy of an urban girl stranded in a small Wyoming town where she gets involved in the melodramatic complications of the western soap opera of cheating wives and loyal friends. The film, a modest 72-minute programmer co-starring Robert Young (as the stalwart ranch foreman and love interest), made Sothern a star in the role that would define her screen persona: sassy and sweet and sexy. And it launched a series that ultimately totaled ten films, sending Maisie "traveling to every part of the globe as conceived by the set decorators," in the words of film historians James Robert Parish and Ronald L. Bowers.
The debut release collects the first five of the films on a three disc set. Following "Maisie" are "Congo Maisie" (1940), which strands her in an African village with a visiting doctor (John Carroll); "Gold Rush Maisie" (1940), set in a ghost town outside of Tucson; "Maisie Was a Lady" (1941), where she takes a job as maid to a rich family and helps smooth over their conflicts (co-starring Lew Ayres and Maureen O'Sullivan); and "Ringside Maisie" (1941), where she befriends a young boxer played by George Murphy. Contract director Edwin L. Marin directs most of these films.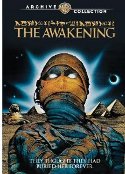 "The Awakening" (Warner Archive), loosely based on Bram Stoker's "The Jewel of Seven Stars" and directed by Mike Newell, stars Charlton Heston as an English archeologist who unleashes supernatural powers after discovering an ancient tomb. New York Times film critic Janet Maslin described it as "a spooky, skilfully made horror film about archeologists who uncover the inscription ''Do Not Approach the Nameless One Lest Your Soul Be Withered'' and still keep on digging," in her 1980 review.
More new manufacture-on-deman​d releases, plus clips from the "Maisie" films, at Videodrone.
For more releases, see Hot Tips and Top Picks: DVDs, Blu-rays and streaming video for June 19 

Are you sure you want to delete this comment?