Take a Bite Out of the Trailer for 'The Apple Pushers'
The story of the NYC Green Cart Initiative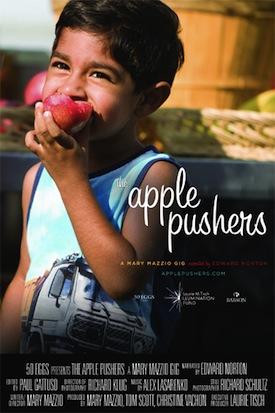 Director Mary Mazzio's documentary, "The Apple Pushers," combines two truly American stories - one good and one bad - for one bold film. The film, narrated by Edward Norton, "follows the inspiring stories of five immigrant pushcart vendors who are rolling fresh fruits and vegetables into New York City's food deserts." A good story! But the reason these vendors, and the Green Cart Initiative that created the new strategy that employs them, are necessary is because of the need to combat the challenge of finding fresh food in the inner cities, places where health is plummeting due to poor eating. A bad (and sad) story. But, alas, both American stories.
While this first trailer for the film's isn't too great - too many subtitles, a looped score playing in the background for its majority - the plot is compelling and appears to weave together a number of different elements and storylines that should make it feel like a full, cinematic meal.
"The Apple Pushers" opens on May 15. Check out the film's first trailer, over at
Apple
.