Videodrone Blu-ray: 'Two-Lane Blacktop' – The great American existential road movie
James Taylor, Dennis Wilson, and Warren Oates on the road to nowhere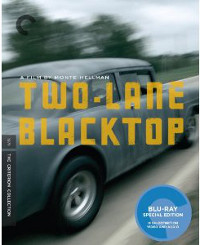 "Two-Lane Blacktop" (Criterion) is one of the most alienated evocations of contemporary America ever made, an almost abstract study in dislocation and obsession set against an anonymous landscape of roadside diners and rest stops.
James Taylor is The Driver and Dennis Wilson is the Mechanic, a street-racing team in a '55 Chevy prowling the back roads looking for private races and side bets. To call them gypsies is to romanticize an empty existence: these guys are disconnected to everything except their ride, just drifting through the country and living from bet to bet. Warren Oates is brilliant as GTO, a middle-aged drifter who slips into a new persona with every stranger he meets, lighting up anew with every fabricated life story he spins. Laurie Bird co-stars as the girl, a hitchhiker who leaps out of a psychedelic van and into the Chevy like it was a second home.
Directed by Monte Hellman from a script reworked by author Rudolph Wurlitzer, it's the great existential road movie ever made, a modern western without frontiers, only paved trails that go everywhere and lead nowhere. The story is ostensibly their race across the country "for pinks" (pink slips), but it evaporates like everything else in their lives, colored gone around the next corner. Taylor and Wilson deliver appropriately blank performances, only expressing emotion when the Girl sparks jealousy between them, while Oates is a glib dynamo constantly trying on new characters as he ping-pongs between the coasts.
"How fast does it go?" asks the Driver, admiring GTO's car. "Fast enough," he answers. The Driver snaps: "You can never go fast enough." These are characters on the road to nowhere who can't work up enough speed to escape themselves.
Are you sure you want to delete this comment?