Interview: Dolph Lundgren of 'The Expendables 2'
The Swede action icon talks being 'Neanderthal-ish' and being the comic relief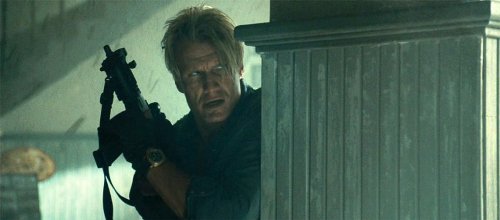 Dolph Lundgren is incredibly happy. It suits him. The massive Swede is one of the many action icons and flesh-and-blood (and rather a lot of both) actors making up the assault on boredom that is "The Expendables 2," a film which, I can say without fear of controversy, is better than "The Expendables." Lundgren's a polite, old-world gentleman in a frost-blue shirt that matches his eyes who just happened to embody Russia during your teen years, but in person, he's not nearly as scary as he should be. We spoke in L.A. about action, shooting with Stallone and some of the twistier folds in his back catalog.
MSN Movies: How great is it in this film -- how rare is it, that in any film -- that a humble, Swedish farm boy of your dimensions gets to be the comic relief? A lot of the time Gunnar gets the punch line, Gunnar gets the joke. How amazing is that in this stage of your career?
Dolph Lundgren: Thank you. Well, I'm glad you feel that way. I haven't seen the film; I was on the set obviously when we shot it. Nice, I'm happy that you feel that way. Thanks.
Well I mean, just like, he's always there on the edge of his seat with this little "Erghh."
(Laughs)
At one point, Stallone throws out the nickname Frankenstein. And you leer from behind your scars. Is that just it? Just getting in touch with your reptile brain and…
(Laughs) Yeah, it's kind of the Gunnar from the first film who was kind of a loose cannon running around -- hanging pirates, shooting people, and going nuts.  He keeps it under check somehow but is boiling under the surface. So yeah, I'm ... trying to be a bit Neanderthal-ish, in a funny way.
Right.
(Laughs)
The first film... the whole idea of it was bruited around for a while and people were talking about it. Was it something as social as you and Mr. Stallone might be barbequing, eating some coleslaw and he mentioned the project or was it like your agent calling you and that clinical? How do you get to be in "The Expendables"?
Sly called me and my agent said, "Stallone wants to talk to you about something." And I kind of kept in touch with him over the years now and then but nothing professional. He just called me and said, "I have this script, and I want you to take a look at it see what you think." So I read it, I read about five pages, and Stallone? Especially the first one was like (a) pure Stallone script, like kind of raw and brutal but in a funny way, good dialogue, the way people talk. He'd really thought about it and every weapon is like described in detail, the grip, everything, like who would do that? It must be like 200 weapons described in absolute detail. Every story, it's like God, I've worked with him so long, it's like wow, Stallone, he's like one of a kind, this guy. So immediately after 10 pages I said, "God, I want to make this film. I want to be in this movie." I called him back and said, "I love this and I've read like 10 pages and I'd like to be in it."
But this film is directed by Simon West…
Yeah, the second one.
We may be talking about the variation between different kinds of Philly cheesesteak, here ... or the filet mignon of action cinema. What's Mr. West doing differently as a director in order to make this film happen?
Well, I think he's a shooter, he's ... (motions with hands) Tableau! He frames differently. Stallone likes really big close-ups, really tight closeups, stays close to the characters.  Simon frames bigger, he thinks like more of a tableau in the way he shoots. The film is bigger, and that was the difference. The first film was more in people's heads, more on what you're thinking. This one was a little more superficial, funnier, bigger, not quite as internal as the first one.

If you were willing to put up with Mickey Rourke talking to his cockatoo, there was a lot of existential stuff in the first "Expendables."
(Laughs). Yeah, you're right.
I feel like that maybe got chucked over in favor of, "Let's just shoot it"?
Yes.
Okay, good.
I agree.
Yeah, we'll leave it at that. The other thing though is, in the first film, you're shooting this kind of weird tribute to Canon action films in the 80s but at least you're doing it in a tropical climate.
Yes.
This is all Bulgaria. What the Christ? I mean, did you say to Mr. West, "Why can't you make this out somewhere warm?"
Yeah, we said that many times numerous times, but I think we had to say it to Avi Lerner who was paying the bills. And I think everybody agrees that next time it has to be in Hawaii or Tahiti.
Right. "The Expendables" go Hawaiian with special guest appearance by Ann-Margret. I feel like that would be…
(Laughs) That would be terrific.
When the idea of the second one comes around, are there whisperings around the campfire of "We're going to try and get more of ..." Guest Star X. I don't want to ruin this for people. ... But are you those things or is it as much of a surprise to you?
No, I was told some things by Sly because I know him, and he told me like Bruce was going to be there and Arnold too.  But then of course they were working on other films, preparing other movies, so we weren't quite sure about Van Damme for instance. There were talks about Sean Connery being in it playing ... there were some other characters in the piece that were written out because maybe they couldn't get him…
But I can totally imagine Sean Connery as a retired guy in the black British special ops turtleneck.
(Laughs)
Yeah, that would have been solid. How much fun is it to work with these guys and get to know them like in a way you might not have? I'm not going to assume you all go to the same action hero bar, but I mean, Van Damme, he's a really interesting guy, intellectually and philosophically, but he still does that great-slash-ridiculo​​us spin kick. What's it like to get to talk to him?
(Laughs). Look, I've known him since '91 so I did "Universal Soldier" with him, I know him really well. So him I knew. I didn't know Bruce Willis that well; I'd met him but I got to know him better. Jet Li as well, Statham, you know especially Randy and Terry who are two great guys who aren't huge stars like Bruce Willis or Arnold ... but they're really good guys and I spent a lot of time with them and they're very genuine. And maybe because Gunnar was like the lone wolf in the first film, I didn't know anybody except Sly, they were all looking at me like, "F&*king weirdo. This weird guy who's just…" They didn't know me, they were unsure of me. I mean, Jet Li was literally scared of me in the first film when I had to fight him because I put a big knife to his neck and he wasn't sure…
But there's got to be a bunch of different philosophies of action acting right? Like Randy Couture does this for a living and you can tell 'cause it appears he's probably a lot looser with just doing improv, but somebody he's different from, say someone like Mr. Li who's used to Hong Kong stunt teams supplementing his incredible natural skill, not to take away from the man. Is it fun watching that stuff get worked out physically?
Yeah. The physical stuff I've done so much of that I watch it and it's easy for me to step in a do a fight scene with Jet Li or Statham or whoever it is, or Randy. I'm ... maybe like Jet. Jet, he just watches it, his stunt double does it, he walks up and does the first take, there's no rehearsing. I'm a little bit like that.  But what I like is the more human moments when you have a little, even if it's one word, with Arnold or you actually look at him in the eye and he tells you something. It's kind of fun because he is an icon after all and who gets to be in a scene with Sly, Arnold, Statham, and Jet Li, and Chuck Norris you know? Just on a personal level it's kind of fun.
I know we're getting "Universal Soldier 4" which makes the younger me, who rented "Universal Soldier" one on VHS, happy. Why are we not seeing a sequel to "I Come In Peace" aka "Dark Angel"?
Oh, why thank you. (Laughs)
...with its flying CD guillotine?
Okay, man! I'm on it.
("The Expendables 2" opens, loudly, in theaters this Friday.)