Interview: Olivia Thirlby of 'Dredd 3D'
On reading minds, kicking ass and doing a genre hero right ...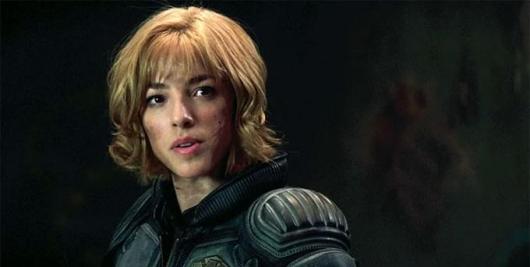 With her work in films like "Juno" and "The Wackness" and "Margaret," Olivia Thirlby has built herself a substantive career in  indie film; that path led her, however crookedly, to this weekend's sci-fi action film "Dredd 3D," where she plays a psychic police force rookie, Anderson, opposite Karl Urban's performance as the glowering veteran futurecop of the title.  What's impressive is not only how enthusiastic Thirlby, but, more interestingly, how carefully thought-out her enthusiasm is; she's clearly on-board for everything the film required and requires, with articulate and intelligent answers about her character's inner psychic life and motivations in danger. We spoke with Thirlby in Toronto the day after "Dredd 3D" opened up the Toronto Film Festival's Midnight Madness selection last Friday;
MSN Movies:  So before we talk about the film and what have you, even with the lateness, how did it feel to premiere the film last night?
Olivia Thirlby: It was great. It was very exciting, and one of the most exciting things actually, we were sitting just behind the stage after the film had started and I believe it was probably after the cold opening of the chase sequence … But we heard a thunderous round of applause coming from inside the theater and we all just kind of looked at each other and got really excited. (Laughs)
And you had a Q&A and met the fans. What are people who stay up til 1:30 to watch "Dredd 3D" like? They're pretty dedicated?
(Laughs) They are dedicated, but for them we are eternally grateful because it's really for them that we made the film, and I think actually what's special about this film is it slightly transcends the genre category because it's a little subversive. It's a little stranger and darker than you might expect a film like this to be, and so I think it transcends simply the genre category and it will be appealing to more people than just the big Dredd-heads. But in my opinion is that they are the kind of heart and soul of the people we want to reach with this film because they care about this world already and they care about these characters and they already have an attachment to them, and I feel that we just want to do right by them. So it's exciting.
                                                                           BING: Olivia Thirlby | 'Dredd 3D'
The character always functioned to me as this kind of weird satire that maybe people didn't get, i.e. he was a fascist that you could still enjoy the adventures of.
Yes. (Laughs)
Working with Mr. Urban when he's wearing the helmet … he does not take it off in accordance with, I don't know what you would call it, Dredd mythology.
Yes, exactly.
The Dredd canon.
(Laughs)
…  But you're kind of being denied a number of ways to nonverbally communicate specifically, visual communication with your fellow actor. But at the same time, you're not supposed to get along well with that character. Was it actually something that helped, not being able to get those windows into the soul during takes?
Well, certainly, but the other thing about Anderson is that she's a mutant psychic. So she doesn't have to be able to see Dredd's eyes so know what's going on inside of his head. And I think that's one of the reasons that he really hates her at first.
Because what might she unveil? What might she discover?
Exactly. And actually the first time you see her using psychic abilities in the film, she's…
Like she touches something bad in the refrigerator in the dark, she kind of recoils from Dredd.
Exactly. She is asked to describe this person. She doesn't know who it is, but she's able to read him energetically, and what she sees is a very dark thing.
Is playing someone who's psychic abilities fun insofar as you get to roll your eyes up a lot and turn your head weirdly and do that stuff, not to suggest that those are tricks or clichés, but is it fun to play a psychic?
It was tremendously fun to play a psychic, and it was very important to me to make her psychic abilities seem natural and not like some strange super power. I didn't want her to rub her temples and then say, "Eureka!" I tried to keep her experience as internal and subtle as possible because I think that that's what it would actually be like. And I actually went quite in depth deciding by, figuring out the ways in which I thought she perceived energy. It had a lot to do with color and aura, vibrations. And so these were all things that were going on constantly in my head, and of course Anderson's dialogue never touches on any of this stuff, but it was a world that I created very fully and I always was using in the film because I thought that she would be, she's very sensitive and she's constantly taking in information. She knows all the joys and sorrows of every single person that she comes in contact with. And that's a lot. I mean you could make a whole film just about what's going on in Anderson's head. (Laughs) And some of this film does go inside Anderson's head, but I didn't want it to feel like a cliché. I didn't want it to feel like a fortune teller with a crystal ball or something like that. I wanted it to be intuitive and natural, and it was actually through all these kinds of figurings and workings that Anthony Dod Mantle, our DOP, devised this strange 3D focus pulling-effect that you see when Anderson is reading someone or taking in information.
I was wondering, I mean there was one scene where Wood Harris' character is literally trying to mess with your brain and we sort of go to Anderson's perception of his thoughts and it's all of this like pastel, luminous, weird, fleshy, damp, slow-mo, for about 30 frames. Did that take all day to film?
When specifically? Are you talking about when I go inside his head?
Yes, and he's picturing … vigorous (sex) with you.
Yes. You know the way that that that sequence was assembled would be probably be a better question for the people that were assembling it in post-production. We shot that sequence with green screen, and it was actually the only thing in the film that I shot in full green screen. Most of the green screen stuff we had was like we were in a set but then the end of the corridor there would be a green screen so they could add more corridor. Or we would be in the location, the atrium location of Peach Trees. That was a location in Cape Town, that was this Cape Town Civic Center but it's only two stories high, so everything you see above two stories added in. So it wasn't a heavy green screen film, which was great for me.
And I bet all of that stuff was.
Yes, the sequence inside Wood's head was largely green screen.
You're somebody whom I associate with a certain level of drama, you know certain people know you from your work in "Juno," but what's it like to pick up a really heavy gun and wear 80 pounds of leather and run around all day? Is it fun?
It's incredibly fun. It's incredibly fun. I'm definitely satisfying my wildest childhood fantasies of dress-up. It's dress up in laser tag but with production value and blanks in your gun, and it's incredibly fun. But at the end of the day, I actually feel that Anderson is one of the coolest characters I've ever played, and I mean that in terms of a dramatic acting sense. She's just got so much going on; she's so complex. She's so vulnerable and so strong at the same time. I actually think that she's one of the most complex, dramatic characters I've ever encountered.
Which raises the question of course, this is a property with 35 years-plus, of history to draw upon, if this does well and somebody asks you to come back and suit up as Anderson, would you be in?
It would be an absolute dream come true.
Depending on the people, I mean, jeepers, if Dennis Dugan said we're doing "Dredd 2," you'd probably be less interested, but if Mr. Garland ever…
(Laughs) I have a feeling that Mr. Garland and the folks at DNA will keep their talons in this one if there is anything more to be had from it.
(Laughs) There's a lot of obscenely, perfectly violent moments in this film, just really, really well done bits of ultra-violence any B aficionado would love.  What's your favorite?
I love the SLO-MO blood. It's so bright and sparkly. It's all from the twisted mind of Alex Garland. He's really a genius in the ways that he managed to conceive of this drug, this SLO-MO drug, and the idea behind it was the reason why it was popular and the reason why people were using it is that it made truly, grotesquely, horribly, bleak things look beautiful. And when you're living in a slum like Peach Trees and a city like Mega-City One, you would probably want to use SLO-MO.
(Laughs) You would, probably.
And it does. It makes things look beautiful. I mean, who would've thought that you could watch someone's jaw get blown off in slow motion and think that it looked beautiful?
Like a brilliant crimson flower of blood.
Exactly. It looks like red diamonds. It's beautiful.
Godard does have that classic line about violence on film where he says that at a certain point it's not blood, it's just red.
(Laughs) Yes, exactly. And I actually appreciate the truthfulness of it because there are a lot of these big action films where people get shot but you don't see blood, and I don't know how I feel about that.
You would probably prefer it if movie violence looked as awful as actual violence?
Yes I would prefer that because perhaps it would deter people from perpetrating violence like that. If they saw what it actually looked like instead of thinking that it was going to be like it was in the movies ...
In film, traditionally when you get shot you take two steps backwards and carry on and save the day.
Exactly.
But not in this movie?
Well, not quite. I mean Anderson does get shot, and she does make it, but there's actually this really beautiful moment, it's one of my favorite parts of the film where she's in probably a bit of a fever…
Right.
…after getting shot, and she has this very psychedelic kind of trippy moment where she looks up and she sees this little wire creature on the floor, which of course has been made by the Clan Techie, Domhnall Gleeson's character, who she ends up having a very special connection with, who she actually had just had a kind of special connection with in the film, and I loved that. It was something that we shot kind of on a whim because one of those things happened to just be on the floor in front of where I had fallen. And we saw it and they had pointed it out to Anthony, and he pulled out his, he built his own little handheld 3D camera for super close-ups and we kind of shot this kind of warping, twisted thing where she's having this fever dream and she's maybe hallucinating but she's also seeing this surreal little wire creature on the ground, and I love that moment in the film.
This little moment of found beauty in the moment of all this horrible violence and despair?
(Nods)
("Dredd 3D" opens on September 21st; are you looking forward to seeing Thirlby go from indie darling to gun-wielding heroine? Tell us on MSN Movies Facebook and MSN Movies Twitter.)