Interview: Julia Jones and Boo Boo Stewart of 'Breaking Dawn: Part One'
Their voice-over directions? ''Run and jump and growl, and grab the stand and Grr and more wolf-y ...''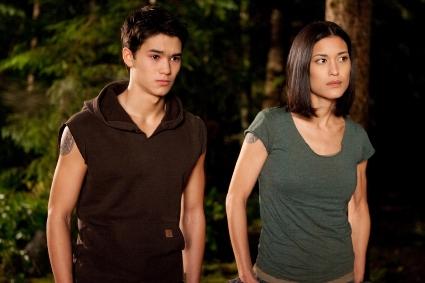 Playing two of the series' werewolves, Julia Jones and Boo Boo Stewart back up Taylor Lautner's Jacob in "Breaking Dawn: Part One" -- even if much of their screen time is spent as computer-generated wolves. We spoke with Jones and Stewart in Los Angeles about getting into the appropriately animal mindset in the voice-over booth, being cold and the universal pain of young werewolves in love. 
You guys have this great subplot about all the internal politicking, and friendships, in the wolf pack; you get to do these great dramatic scenes ... and then you get to be large computer generated wolves.
Stewart: Finally someone got it right. Everyone keeps asking us, 'What was the makeup process?'
At the same time, that's kind of a compliment to the movie magic of it all; people think its real. How do you as an actor prepare for that whether its in a voiceover booth or walking around a rainforest in not much clothing, getting ready to get your werewolf on?
Stewart: I think I prepare for it by running and trying to get warm before the scene, and embarrassment in the ADR room making werewolf noises. Just weird noises that I wouldn't think a wolf would make.
Jones: There are experts. They know exactly was the sound is. I didn't prepare for it. I didn't realize what was going to be asked of us. Sure enough there we are in the studio like, 'Okay, run and jump and growl, and grab the stand and Grr and more wolf-y.'
So they really encouraged you to get into the physicality of it?
Jones: Completely.
Do you have to pay for damages, or do they?
Jones: They have to pay.
On a more serious note though, this is the first half of a two-part film. It ends on a great cliffhanger. Are you kind of like rubbing your hands going, 'Guys, wait until the next movie?' Is it that you cannot wait to show it to people?
Stewart: Yeah, I'm sure the fans are even more so like, 'Come on. I can't wait.' We know what happens, and if you've read the books, you know what happens, but it's so different when you see it on screen.
Is it a little weird to see the stuff you were doing for your job, blown up sixty-feet high involving that level of craft? Have you seen the film?
Stewart: I haven't seen 'Breaking Dawn' yet, I'm waiting for the premieer on the fourteenth, but I remember when I did see 'Eclipse.' That's the first time I've ever seen my face that big. It was the weirdest thing. I didn't know what to think.
Ms. Jones, am I incorrect in noticing a little note in yearning every time your character talks to Mr. Lautner's character?
Jones: What are you trying to start here?
I'm just trying to suggest that maybe you lost his heart to a weird vampire baby.
(Jones laughs.)
 Is that something we're going to see finished up in the next film, that subplot?
Jones: I think that their relationship is really unique, and it's really intense. It is I think intimate, but don't think it's a romantic relationship. I don't think that's where it's going to go, but it is more than friends, so it's interesting.
There were some long glances there ...
Jones (laughing): Allright, fine. 
("Breaking Dawn: Part One' opens this week.)