Mind-Blowing: Another Outstanding Teaser for P.T. Anderson's 'The Master' Arrives
And we almost forgot that Joaquin Phoenix could act!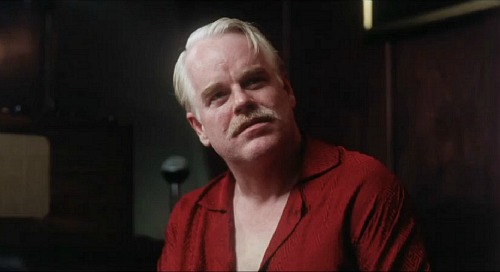 We've still got a few more months to go before Paul Thomas Anderson's highly anticipated "The Master" hits theaters, but if the production keeps churning out teaser trailers like this one, fans of the filmmaker and his brutally precise style are going to find those months hard ones to endure. Anderson's latest project has been teased for quite some time and, for awhile there, all we knew about it was that it starred Philip Seymour Hoffman, Joaquin Phoenix, and Amy Adams and was frequently referred to as Anderson's "Scientology film." While we still can't be sure how closely the film will hew to the rise of L. Ron Hubbard and his religion, we do know that Hoffman plays a curious intellectual who has some lofty goals and that Phoenix plays a drifter who comes under his sway.
Until we see the final film, we'll just have to glean information about how all those pieces are going to come together. This second teaser trailer shows Hoffman's ravenous appetite for information and an almost laughable sense of ambition, along with a shiftless Phoenix, who looks to come into some major trouble at some point. It's heady, evocative stuff, and if the film itself is like this, we're in for another treat from Anderson.
The film also stars Jesse Plemons, David Warshofsky, and Rami Malek. "The Master" will open on October 12. Check out the film's latest teaser trailer, thanks to
ComingSoon
, after the break.