Just Say No: Lindsay Lohan to Play Elizabeth Taylor in New Biopic
Will the late Oscar-winning icon rise from the grave to protest this off-the-charts casting?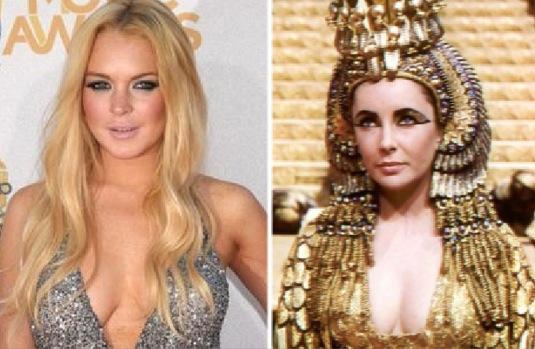 Lifetime announced today that troubled Lindsay Lohan will definitely star in "Liz and Dick," a TV movie about the tumultuous relationship (and two marriages) of screen legends Elizabeth Taylor and Richard Burton. The news sent outraged fans straight to their Twitter accounts ("The worst idea of the year!" "Loathsome!" "I don't want to live in a world where Lindsay Lohan is playing Elizabeth Taylor!" "Next up: Snooki as Audrey Hepburn!"). Lohan's probation from a 2007 DUI was recently lifted, clearing the way for her participation in the film which will be shot in Canada beginning in June. "I have always admired and had enormous respect for Elizabeth Taylor," she said in a statement.
On the plus side, there are some noted parallels between the two women. Both had successful careers as talented child actors. I'd be the first to say that Lindsay Lohan was absolutely wonderful in her first movie, the 1998 remake of Disney's "The Parent Trap," in which she played the dual role of identical twins who were separated at birth. A few more good performances followed but it wasn't long before her burgeoning film career took a back seat to an endless series of arrests, rehab stints, and excessive behavior that made her persona non grata on most film sets.
Elizabeth Taylor's personal life was also steeped in scandal, of course, but I can't help but feel that the late Oscar-winning actress would be less than thrilled with this casting choice. On the other hand, I'm assuming Taylor wouldn't like anything about this project, starting with the title (she hated being called "Liz"). Taylor and Burton first met on the set of "Cleopatra" in 1963. The volatile couple were married from 1964 to 1974 and then again from 1975 to 1976. Apart from the other ticking time bombs inherent in this production, fans wonder if the physically ravaged Lohan can possibly get away with playing one of the most beautiful women on the planet. For her sake, I hope so. Maybe Elizabeth Taylor will finally give the once-promising actress the comeback she's been hoping for. No word yet on who will be playing Richard Burton. Is "The Situation" out of rehab yet? 

Lifetime, why are you wasting your money?  Not only does she look nothing like Elizabeth Taylor (especially now that she's pumped her lips beyond recognition) but her acting is mediocre at best. I'd rather sit through Sherilyn Fenn's crappy version of Liz for 24 hours straight before I would watch that.

Are you sure you want to delete this comment?