Warner Bros. Entertainment Will Present 'Extra at Comic-Con'
Free outdoor entertainment festival during Comic-Con brings Batmobiles, the Extra Stage and more to fans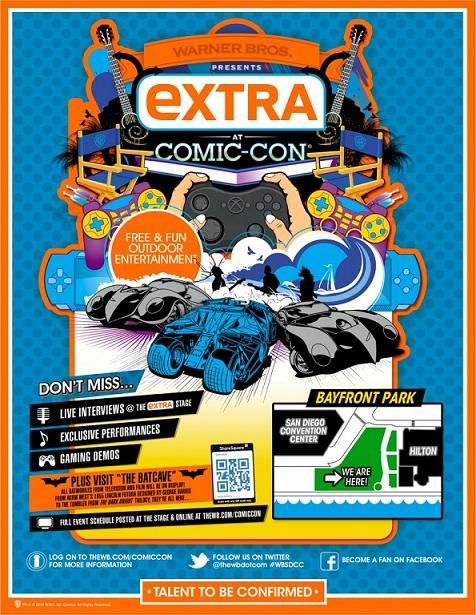 For the first time ever, Warner Bros. Entertainment will present Extra at Comic-Con®, a free outdoor entertainment festival happening in San Diego's Bayfront Park July 12–14 during Comic-Con International: San Diego. Bayfront Park is located between the San Diego Convention Center and the Hilton San Diego Bayfront hotel.
"Everyone at Warner Bros. Television approaches Comic-Con as a fan-first experience. It's in our DNA, with everything we do — from panels to signings to our bags, posters and more — carefully curated with our fans in mind," said Lisa Gregorian, Chief Marketing Officer, Warner Bros. Television Group. "With the Extra at Comic-Con space, we have created a free and fun outdoor entertainment destination for fans. In addition to having all the Batmobiles on display and game demos, we will be hosting interviews throughout the day on the Extra stage, as well as evening and night events such as screenings and live comedy and musical performances after the convention floor closes for the day. It's additive to the experience of being at the Con."
Located just steps from the Convention Center, Extra at Comic-Con will be a live, multi-day entertainment experience capturing all the excitement of the Studio's fan-facing properties: From The Lord of the Rings to the DC Universe, they're all here!