Watch the Trailer for Matt Damon's Anti-Fracking Movie, 'Promised Land'
The Gus Van Sant film stars Damon, Frances McDormand, John Krasinski, and Rosemarie DeWitt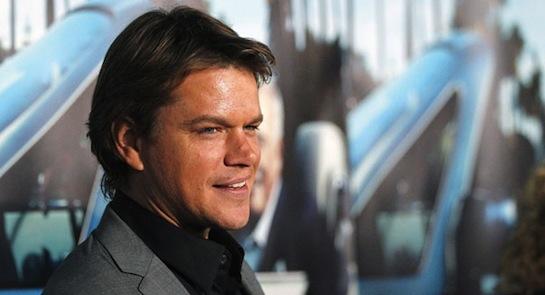 Have you been having a hard time following the national debate over hydraulic "fracking"—the process by which huge amounts of sand, water, and chemicals are injected underground at very high pressures in order to extract natural gas from rock? Do you need help sorting through the pros and cons of the procedure? You're in luck! That smart Harvard boy, Matt Damon, will explain it all to you! Damon and John Krasinski have teamed up to write the screenplay (based on a draft by Dave Eggers) for the upcoming "Promised Land." The Gus Van Sant film explores the issue from the point of view of a corporate salesman (Damon) who tries to get drilling rights in depressed communities and is quite successful until a local man (Krasinski) tries to educate the people in his town about the serious environmental risks of this drilling method.
Opponents to fracking cite studies that show how drinking water in communities where fracking takes place becomes dangerously tainted as a result of the procedure. Pro-fracking groups dispute these claims and maintain that the benefits outweigh any risks.
"Promised Land" also stars Frances McDormand, Rosemarie DeWitt, and Hal Holbrook. The film was going to be Matt Damon's directorial debut but when he realized he couldn't take on that responsibility, he asked Van Sant, his "Good Will Hunting" collaborator, to take over. Check out the trailer below which, interestingly, never uses the word "fracking."
"Promised Land" opens for a limited Oscar-qualifying run in late December. 
Are you sure you want to delete this comment?