Interview: Julie Delpy, Director and Star of '2 Days in New York'
The Oscar nominee co-stars with Chris Rock in this funny sequel to '2 Days in Paris'
Besides being an immensely talented actress, screenwriter, and director, one of the qualities I admire most about Julie Delpy is that she refuses to take herself too seriously. In her first directorial effort, "2 Days in Paris," she mercilessly skewered her native France, herself, and even her family members (her real-life parents, Albert Delpy and Marie Pillet played her wacky parents in the film) to hilarious results. Perhaps best known for her two Richard Linklater films opposite Ethan Hawke, "Before Sunset" and "Before Sunrise," Delpy now returns with a sequel to her first film. In this round, her boyfriend Jack (Adam Goldberg) is nowhere to be found and Marion, Delpy's neurotic alter-ego, is living with her new boyfriend in New York, a radio personality named Mingus (played by an excellent and restrained Chris Rock). All is going well in the relationship until her eccentric father and sister decide to head to New York for a visit (Delpy's mother—and thus Marion's—sadly died a few years ago). Also tagging along is the sister's new boyfriend, one of Marion's exes, a clueless soul with a knack for always saying the wrong thing at the wrong time! Mingus struggles mightily to deal with the French contingent and lets off steam by complaining about them on his radio show.
Having once been married to a French person myself, I enjoyed chatting with Julie Delpy about some of the differences between Americans and French people that can lead to…shall we say…misunderstanding​s. Delpy, now an American citizen and a longtime New Yorker, loves to shine a light on such cross-cultural conflicts.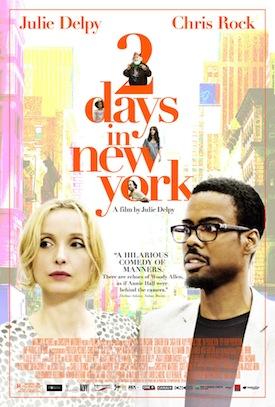 Julie Delpy: I love to make fun of my own French people. And when you put them with Americans, it's irresistible! I feel like most communication in life is already miscommunication but then when you add a language barrier it just becomes insane!
MSN Movies: When this film started, I was sad to see that Marion and Jack had broken up. But your chemistry with Chris Rock was so fun I soon got over it! Why did you decide to give Marion a new relationship?
You know, when I decided to make a sequel, I just felt that it wouldn't be right to use the same guy. I did "Before Sunrise" and "Before Sunset" with the same person—it was an ongoing love affair between a French woman and an American guy so I wanted to do something different in my films. I also thought that Marion was a complicated person and I wanted to show that things don't always work out in life. I mean, it's a comedy, but you know, you grow up, you have kids, parents die, and things don't ways work out the way that we hope! Life is not easy—it's not supposed to be. You either have a sense of humor and you survive it or you shoot yourself in the mouth! (Laughs.)
Did you already know Chris Rock in New York?
I had only met him briefly—this sounds a little cheesy, but I met him at an Oscars lunch because I was a nominee and he was the host that year! We ended up talking for like three minutes, but I always loved his stand-up. I thought it was crazy, outrageous, and politically incorrect—everything​ I love! Not terribly respectful to women, kind of dirty and smart—I thought, "I want to work with this guy!"
Did you consider having a brief moment in the film where Marion and Jack run into each other? I kept thinking of that scene in "2 Days in Paris" when they talk about what it would be like if they ran into each other after they broke up.
Oh, wow, I didn't think of that. Now that you mention it, that could have been a really good scene! But the truth is, what Jack said in the first film is that he wouldn't be friends with her if they weren't together. So basically, in this film, they're not friends, they don't hang out, they don't really see each other even though they share a child. It's not a very friendly break-up. In real life, though, I actually AM friends with most of my exes!
Your father is a joy to watch every second that he's on screen. With someone like that, is his part tightly scripted, or do you just give him the basic plot and say, "Go!"
Actually, 95 percent of his stuff was scripted! He might have ad-libbed a line here or there. He's so funny, so endearing, kind of like a dirty Santa Claus, so he gets away with murder, it's really hilarious! He's definitely had some hard times in his life, including a really tough childhood, but he's such a lover of life and it really shows on screen. I mean, he's a fantastic actor, he can play all sorts of parts, but that part of him really shines through here.
Is it ever strange to be directing a close family member?
Most of the time I'm very direct on set and it's not a problem but there are some days where it doesn't go so smoothly. Sometimes he doesn't agree with my decisions and then we go into this weird father-daughter dynamic. I think that only happened one day on this film. Usually he just makes fun of me and doesn't take me very seriously. None of my family or friends take me seriously, which I really like!
I also enjoyed the dynamic between Marion and her sister, Rose (Alexia Landeau). I love how family members can love each other but be at each other's throats at the slightest provocation! Were those scenes where you go after each other fun to shoot?
Oh, God yes, I love to fight! She almost gave me a black eye in one of those scenes! It's so fun to do those angry scenes, getting to say the worst possible things you can say to someone—maybe it's because I love having arguments in real life! I also think that when you're with your family members, it's so easy to instantly go back to the dynamic of childhood. Everyone talking but no one listening—that's basically what family is!
How do you feel when people talk about your films and compare you to Woody Allen?
Listen, it's not bad—if I could have a third of his talent and a third of his career I'd be very, very happy! I regard him as one of the greatest American directors of all time! So it's a big compliment even though I don't feel that my films are even close to his!
I've also seen people confuse these movies with your Richard Linklater films. Do you think Marion and your character in "Before Sunrise" and "Before Sunset" exist in the same universe?
The tone is very different, but yes. I have to tell you the truth—why I made "2 Days in Paris" as my first film! I'd been dragging around a couple of different screenplays forever but no one wanted to finance my movies. Then I got an Oscar nomination for "Before Sunset." Because the finance people are always terrified of giving money for anything new and they just want to finance the same film over and over again, I decided to make believe that I was doing another version of "Before Sunset!" I wrote a script that put a French-American couple in Paris and I presented it as a similar film—just a little funnier and with a different energy—that was my way in! My other screenplays were thrillers and because I was a woman, no one was going to finance that as my first film, let's face it. I knew they'd be more open to a romantic comedy!
So what about the next sequel to the Richard Linklater films that I keep hearing you and Ethan Hawke are about to do?
Well, we're working on it, we're writing it now!
Oh, I heard you were shooting it this summer. So that's not happening?
Well, we'll see—summer isn't over yet! (Laughs.) I'm an optimist!
And what about Marion? Will we see her again?
Do you want to? Two more days somewhere else?
Absolutely! Maybe she and Mingus can move to Los Angeles?
Ooh, I love it! "2 Days in L.A." with the crazy French dad who doesn't drive a car! I'll think about it!
"2 Days in New York" opens today in New York and next week in select cities around the country. It's also available on demand.

Are you sure you want to delete this comment?