Would You Go See a 'Sleepless in Seattle' Musical?
Troubled production is set to open in Pasadena next year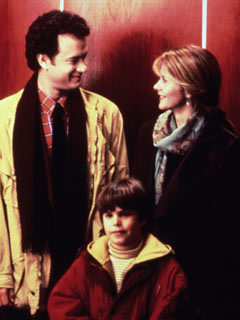 The trend towards turning Hollywood films into musical versions has picked up steam in recent years - including takes on "Ghost," "Legally Blonde," "Once," and the plagued Spider-Man production ("Spider-Man Turn Off the Dark") - but that doesn't seem to have much helped a planned "Sleepless in Seattle" musical production. That production was first announced in 2009, before being delayed once in 2010, and then again in February of this year. As of now, the musical will open in June of next year at the Pasadena Playhouse. Despite opening off-off-
off
Broadway, the current plan is to eventually take the production to the Great White Way much later.
Deadline
also reports that the apparently troubled production is picking up some major steam, thanks to a new injection of creative talent. As the outlet tells it, "Lonny Price was set last month as director. Now, Ben Toth has been hired to compose the music and Sam Forman to be the lyricist. David Shor is producer and Eric Stern is the musical director." The team will be working off Jeff Arch's book - a fine choice, as he created the original story and helped write the screenplay for Nora Ephron's 1993 "new classic" romantic comedy that starred Tom Hanks and Meg Ryan.
There's no word yet on what sort of songs we can expect from the musical, but the original film featured songs like "When I Fall In Love," "In the Wee Small Hours of the Morning," "As Time Goes By," "Over the Rainbow," and "Make Someone Happy," along with a ton of classic Christmas jams, so the production has some stiff competition. Would you be interested in seeing the "Sleepless in Seattle" musical?