Weekend Box Office: Liam Neeson Saves His Family…and the Movies
The action sequel "Taken 2" performed far better on its opening weekend than the original film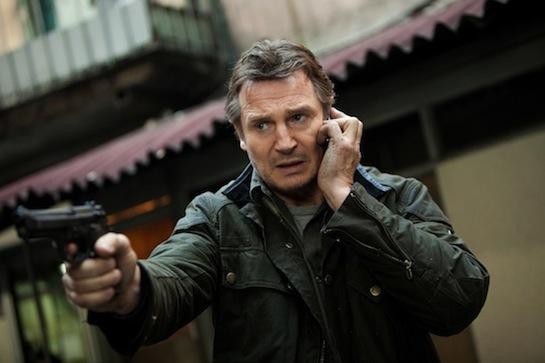 Hey, Liam, don't talk on your cell phone while shooting your family's kidnappers! Proving more resilient than the people he saved in "Schindler's List," Liam Neeson showed that good acting can make even a tired and familiar storyline seem  new and fresh. His "Taken 2" clobbered the box office this weekend with opening weekend ticket sales that were nearly double the amount of the original "Taken" in 2009. This despite a series of abysmal reviews including one by the New York Daily News that said the film "has a plot that could have been written by a GPS program, and contains all the technical charm that conjures up." Maybe it's just that in the waning days of a divisive presidential campaign, Americans are desperate to be carried away by a story where the good guys and bad guys are so clearly delineated.


Fox's "Taken 2" surprised everyone with a whopping $49.5M domestic haul (at 3,661 theaters) over the weekend. Does this mean a third film will be coming from the French filmmakers? Liam Neeson's movie family better beware—how much more peril can poor Maggie Grace take? At #2, last week's "Hotel Transylvania" proved appealing for Halloween-ready families, earning $27M (at 3,552 theaters). "Pitch Perfect" expanded to 2,770 theaters and moved up the list to #3, with wannabe a capella singers forking over $14.8M, while the time-traveling "Looper," at #4, brought in $12.1M in its second week (at 2,993 theaters). Director Tim Burton, still smarting from the lackluster box office of "Dark Shadows," did not fare too much butter with his latest film, the 3D black-and-white "Frankenweenie" which, at #5, only managed to pull in $11.4M on its opening weekend (at 3,005 theaters).


At #6, "End of Watch" added $4M (at 2,370 theaters) to its now $32.8M domestic total, while Clint Eastwood's "Trouble with the Curve" slipped to #7, earning $3.8M (at 3,003 theaters). Halloween-caliber scares were rampant in the #8 film, "House at the End of the Street," which added $3.7M (at 2,720 theaters) to its $27.5M totals. Meanwhile, "The Master" refused to budge from its #9 spot, bringing in $1.8M at only 864 theaters. In its fourth week, the 3D reboot of Disney's "Finding Nemo" rounded out the Top Ten, adding $1.6M (at 1,746 theaters) to its current domestic gross of $39M.
Sure bets for next week's list? Ben Affleck pretending to be a filmmaker in order to rescue hostages in Iran in "Argo," Kevin James, pretending to be a martial arts expert in order to help high school students in "Here Comes the Boom," and Ethan Hawke, pretending to write a true-crime novel while trying to save his family from malevolent forces in "Sinister."