'John Carter:' Biggest Bomb of All-Time?
Early numbers tell a shocking tale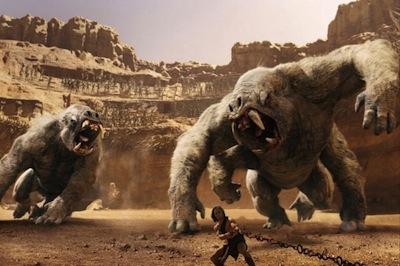 "Cowboys & Aliens" was, by all accounts—and accepted accounting methods—a monumental stinker, making $174 million worldwide on a $160 million budget. Why did it fail? Industry prognosticators indicated that, for one thing, it wasn't based on any well-known, pre-existing brand, or at least not one the public had any awareness of. Strike one. Strike two, it was a western! With aliens! The last sci-fi western most people can actually remember was "Wild Wild West," seemingly the lone bomb in Will Smith's otherwise sterling tenure. Plus it had a ridiculously silly title. Strike three.
On the other hand, it starred two huge, international superstars—we're talking James Bond and Indiana Jones, here, people—and came from the well-known director of "Iron Man." At least it had those things running in its favor.
Now comes Disney's "John Carter," a western-ish sci-fi thing based on a series of books nobody has read starring some dude from a cancelled TV show. Directed by the guy who brought us "Toy Story" and "Up." (Sure, Brad Bird showed us late last year that an animation director can make the successful jump to live-action, but he had Tom Cruise jumping off the tallest building in the world, not Taylor Kirtsch, or whatever his name is, prancing around in front of a green screen.) And, oh yeah, "John Carter" cost $250 million.
Finally, the industry's official tracking numbers for "John Carter" were recently released, and their sickening details spell doom for Disney. According to a random poll, only 3% of moviegoers plan to make "John Carter" their first choice. Only 27% are definitely interested in seeing it, and only 53% were even aware it existed. All of which are (apparently) gruesome, and will surely cost certain people their jobs. So consider this some free publicity, Disney: yes, "John Carter" is a thing that actually exists, and is coming out on March 9th, or something. And yeah, that Super Bowl ad you saw wasn't a joke. Maybe now you'll go and see it? Or, hopefully, at least know it exists?
What do you think, Hitlisters? How much money will "John Carter" make/lose? Wouldn't it be more fun if it was the biggest bomb of all time? Isn't rooting for history better than rooting for mere mediocrity? Also, would that $250 million have been better spent maybe, say, building hospitals and/or schools? Is Taylor Kitsch actually a star in the making? And will any of you actually go to see "John Carter?" Or will you hold out and save your money for "The Hunger Games," which comes out two weeks later.