Interview: Will Ferrell and Zach Galifianakis of 'The Campaign'
The two noted funnymen talk about everything, it seems, but their latest film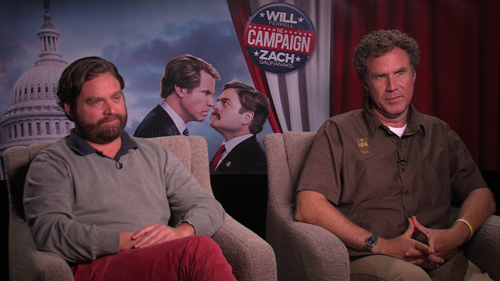 In "The Campaign," Will Ferrell's blow-dried-but-empty​-headed incumbent congressman faces unusual opposition -- Zach Galifianakis' civic-minded sap puffed up on a contributor's money and advancing a pro-business agenda. We spoke with the two about balancing comedy with actual points, how much of a role facial hair played in their work, and about how much improvisation they do, or do not, actually do.
MSN Movies: It's an election year, we're talking a lot about politics, values, financing ... but how important are facial hair and wigs in a comedy like this?
Galifianakis: In this show, the mustache was very important to the character, I thought. Without the mustache ... the character would have been way too good looking.
Ferrell: (Laughs)
There has not been a great political tradition of American presidents with mustaches…
Galifianakis: No. For a long time ...
A long time, since photography.
Galifianakis: Where are you from?
I grew up in Canada, but I live in California.
Galifianakis: Okay.


Is that okay?
Galifianakis: Well, I was just trying to think of Canadian…
Ferrell: Any Canadian politicians with substantial mustaches?
No ... Trudeau was bald.
Galifianakis: Trudeau? Guess who his roommate was.
I can't recall.
Ferrell: In college, Al Gore.
Galifianakis: Wrong.
That's…
Ferrell: Oh.
Yeah, Al Gore's roommate was Tommy Lee Jones.
Galifianakis: Tommy Lee Jones.
Ferrell: I've always been told it was Jimmy Carter.
No, I don't think Trudeau lived with Carter.
Ferrell: Okay.
Mr. Ferrell, how important is that "I just won the Super Bowl side-part" for this film?
Ferrell:  Yeah, that was the whole basis for my character is that hair.
Yeah.
Ferrell: Yeah, that hair informed everything.
You still talk with the hair? Now that filming's over? You still get information from it?
Ferrell: I don't know what happened to the hair. I think it's in a museum somewhere.
We could talk about hair all day ...
Ferrell: Yes.
Your director Jay Roach made two great films about politics, "Game Change" and "Recount." He also made the Austin Powers films. Was he a guy that would come in and say, "Here's the documentary and reading materials"? Or did he say, "Here's your eagle, here's your ridiculous twin dogs"? Or did he give you both?
Ferrell: He kind of actually was someone who, obviously with that background, was a perfect fit for this. But he really embraces all of us to come in with any idea that we had and to kind of throw it all in the pot and mix it all up and make a delicious comedy stew.
A comedy bouillabaisse? Mmmmmm.
Ferrell: Mm. Delicious. Do you want to try some?
Galifianakis: No, I'm cool. Thank you.
Ferrell: More for me, then.
More of the comedy stew. I'm getting completely distracted. But it looks delicious.
Ferrell: Argh, I gorged on comedy stew. Too much comedy…
It's weird to have an American political comedy that's actually about politics. And this film also definitely has an R rating. Is it nice going into a movie to know that you're going for a big smile but your teeth can still be a little bit sharper than usual?
Ferrell: Yeah, I mean I think it was important because politics are vulgar, because they are so nasty that to be able to least have the potential that an R rating gives you was important for us.
And room to improvise? Room to play a little bit?
Ferrell: A lot of room to improvise. Zach refused to improvise. I kept saying, "C'mon, let's have some fun." Zach's like, "You know what? I just want to do my lines and I want to focus on my photography." And I'm like, "Okay, fine."
Galifianakis: I don't like to go off-book. I like to be respectful of what the writer's written.
Ferrell: Be strict. He says the playwright, because he came from theater, he still calls it the playwright, the playwright's words are raw.
Every pause, like in Beckett.
Galifianakis: Yes.
Ferrell: Exactly.
And no one is going to get that reference.
Galifianakis: Well, we did. The three of us…
Ferrell: (Laughs) We did.
Okay, and we're not especially intelligent.
Ferrell: You are, but we're not.
What in your personal background makes you incredibly unelectable? What one thing that makes you deeply unelectable? An arrest? Recreational use of marzipan? A subscription to Cat Fancy magazine? 
Galifianakis: I have elephantiasis of the (redacted).
Okay, elephantitis.
Galifianakis: Mhmm. And that's neither here or there in light of what I'm going to do.
Apparently it's quite here.
Galifianakis: Yeah.


Yeah. To a large degree. And Mr. Ferrell, what makes you completely unelectable?
Ferrell: I'm just ... I'm fairly lazy, I'm fairly lazy.
And in fact you stole that UPS shirt?
Ferrell: Yeah, which is, that's a federal offense.
No, that's ...  Federal Express.
Ferrell: Oh, right. You're right.
("The Campaign" opens this Friday.)