Ray Winstone Wins Nemesis Role In Darren Aronofsky's 'Noah'
Actor will either play God or a really bad rainstorm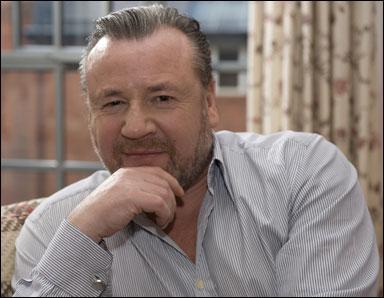 According to
Deadline
, Ray Winstone has officially signed on to Darren Aronofsky's upcoming biblical epic "Noah." Winstone will apparently go "mano-a-mano" with Russell Crowe's Noah as the famous ark builder's "nemesis." Does that mean he'll be playing the vengeful God? Or a torrential downpour? Some sort of physical embodiment of man's hubris, wickedness, and sin? Or just a rival ark builder who criticizes Noah's "only 2 of every species" dictate, if not his choice of construction materials?
We'll let you know as soon as we find out. In the meantime, let's all just sit back and marvel at the hypothetical sight of Crowe and Winstone growling menacingly at each other. Goosebumps!
What do you think, Hitlisters? Has anyone read the relevant part of the Old Testament recently? Who could Winstone possibly be playing? And will "Noah" be biblically awesome, or a disaster of biblical proportions? As always, let us know in the comments...

Try the scoffing leader of the nearest town, or patriarch of a rival family in the next valley.  There were countless scoffers who wanted in once the flooding began.  (Biblical of not, which you not so subtly distain, let's not conveniently discount accounts from a plethora of cultures around the globe have accounts of an ancient flood of some kind.  Regardless, I think it's pretty clear that Winston will be playing a human.  Maybe he speculates on lumber and tries to corner the market and close Noah out on cheap materials.

Are you sure you want to delete this comment?