Academy Awards 2013: Shortlist for Documentary Short Subjects Announced
Three to five of these films will receive Oscar nominations on January 10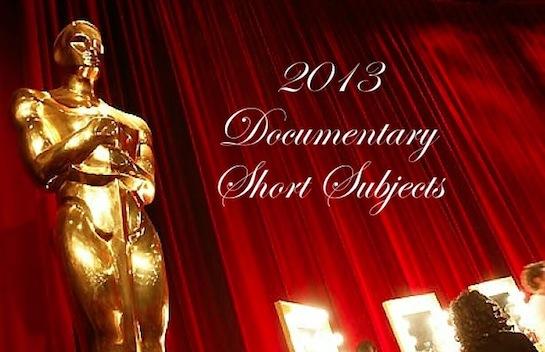 Can it really be happening already? Halloween decorations are only now going up but we're already firmly entrenched in Oscar season? You got it. In addition to the buzz building for high-profile feature films ("Argo" and "Lincoln," anyone?), the specialized groups of the Academy of Motion Pictures Arts and Sciences are already hard at work culling eligible films into official shortlists. Today the Academy announced the shortlist for the Documentary Short Subject category. Out of the 31 films submitted, voters from the Documentary Branch will choose the nominees from the following list of eight documentaries. As hard as it is for feature-length documentaries to get distribution, it's even harder for these short subjects to be seen by audiences so this kind of attention is extremely welcomed by the filmmakers. 
The eight films on the shortlist (in alphabetical order) are:
"The Education of Mohammad Hussein," by Heidi Ewing and Rachel Grady, shows how a group of young American Muslims respond to the hateful anti-Islamic provocations of a U.S. preacher.
"Inocente," by Andrea Nix Fine and Sean Fine, profiles a 15-year-old undocumented immigrant named Inocente who dreams of becoming an artist.
"King's Point," by Sari Gilman, examines the challenges faced by five seniors living in a retirement community in Florida.
"Mondays at Racine," by Cynthia Wade, about two sisters who turn over their Long Island beauty salon once a month to help women living with cancer rediscover their beauty in a whole new way.
"Open Heart," by Kief Davidson, focuses on eight Rwandan children who leave their families behind to embark on a life-or-death journey to get high-risk heart surgery in Sudan.
"Paraíso," by Nadav Kurtz, looks at three Mexican immigrants who risk their lives every day as they rappel down some of Chicago's tallest skyscrapers to wash windows.
"The Perfect Fit," by Tali Yankelevich, details the craftsmanship behind the delicate pink pointe shoes worn by ballerinas, manufactured by a group of burly men who take great pride in their work.
"Redemption," by Jon Alpert and Matthew O'Neill, takes a close look at New York City's "canners"—the men and women who survive by redeeming bottles and cans they collect from curbs, garbage cans, and apartment complexes.
The nominations for the 85th Academy Awards will be announced at 5:30 am (PST) on Thursday, January 10, 2013. The awards will be handed out on Sunday, February 24, 2013.