'The Conjuring' trailer opts for old-school spookiness
The supernatural thriller stars Lily Taylor, Ron Livingston, Patrick Wilson and Vera Farmiga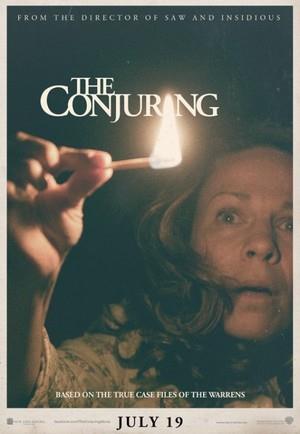 Despite the occasional bright spot in the form of "The Grey," "Cloverfield," "Taken" or others, January still maintains its reputation as something of a studio dumping ground while they prioritize the expansion of their awards darlings from the year before. Horror offerings at this time are often lay-ups for the under-served teen demographic -- take the success of this year's "Mama" and "Texas Chainsaw," or 2012's "The Devil Inside" -- so to see Warner Brothers relocate "The Conjuring" from January into the frequently horror-less summer season after it chalked up reportedly impressive test scores is a simple, but convincing vote of confidence.
And now we're treated to equally simple, but convincing marketing in the form of a new poster (pictured) and trailer (over at
Apple
). It shouldn't seem so impressive that this first look is so quiet, but in the age of
bigger-louder-faster​,
there's a confidence to the creepiness here that plays out over three simple scenes and hardly reveals much about the movie at all beyond Lili Taylor's panicked face and a playful pair of hands. The eagle-eyed can spot Ron Livingston as her husband at the start, and we've yet to even meet paranormal investigators Patrick Wilson and Vera Farmiga.
From that
faded-photograph-lik​e
poster to the strikingly yellow title treatment, James Wan's follow-up to "Insidious" (and precursor to this summer's sequel) is giving off a welcome old-school vibe so far. We'll see how well it's deserved when "The Conjuring" hits theaters on July 19th.