Dick Clark, Movie Star
The late TV icon starred in a rarely seen feature over half a century ago that focused on troubled youth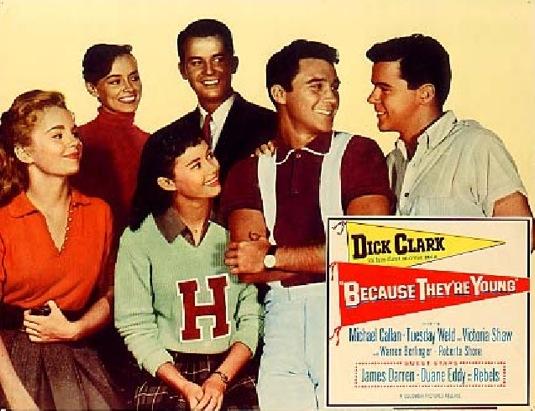 I've been humming the "American Bandstand" theme all day, ever since I learned that the legendary Dick Clark died this morning at the age of 82. Much has already been written about Clark's amazing success, from his important role in helping to create and promote countless rock n'roll bands, to his game shows, blooper programs, New Years Eve specials, and other entrepreneurial efforts including restaurants and theaters. But what about the movie industry?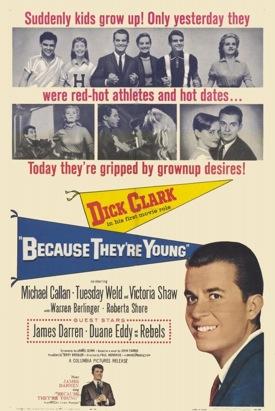 Dick Clark was four years into his "American Bandstand" gig (a relationship that would ultimately last four decades) when he decided to parlay his popularity into motion pictures. His first film, "Because They're Young," was released by Columbia Pictures in April of 1960. Clark played a caring high school teacher who was desperately trying to help his hormonally challenged students, each one more miserable than the next. The ads for the film heralded Clark's movie debut with the tagline, "a motion picture that dares to mirror schoolkids' lives today, no matter how shocking the reflection!"
As you can see from the above production still, though Clark was 30 when he shot the film, he could have easily blended in with the teen actors if it weren't for his suit and tie. We all know that Dick's youthful appearance lasted well into middle age, and even in 1960 he was already being called "America's oldest teenager." "Because You're Young" did not exactly catapult Dick Clark into a burgeoning movie career. Not that it didn't have its fans. The Los Angeles Times declared the film "an agreeable surprise" and said that Clark seemed "at ease in his first dramatic part, his personality making up for any visible slack as an actor." The troubled youths were played by Tuesday Weld, Doug McClure, Roberta Shaw, and Warren Berlinger. If you ever get a chance to see this film, you should definitely give it a look, not only for the oddity of Dick Clark's first starring role, but also to see James Darren, Bobby Rydell, and Duane Eddy who appear in the high school just long enough to sing the film's title song at a dance. Take a look at the trailer for "Because They're Young" after the break.
Dick Clark made a few more films including "Young Doctors" (1961) with Fredric March and Ben Gazzara and the ominous "Killers Three" (1968) in which he played a backwoods psychopath. His only other film role was a small part in "Spy Kids" (2001).   
Are you sure you want to delete this comment?