Interview: Brit Marling Captivates in 'Sound of My Voice'
The actress/writer fulfills her Sundance one-two punch with this mysterious tale of a time-traveling cult leader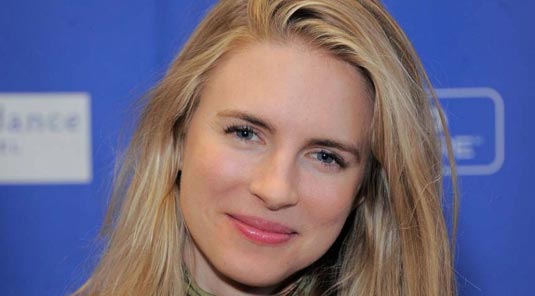 Like the character she plays in "Sound of My Voice," Brit Marling seemed to materialize out of nowhere at last year's Sundance Film Festival. In a stunning and unprecedented festival debut, Marling co-wrote and starred in not one but two critically acclaimed films. At first I couldn't help but be wary of all the accolades being hurled at Marling from so many people—you'd think they'd never met an attractive woman who was also talented and smart! But then I saw her films for myself: the science fiction-tinged character study, "Another Earth," co-written and directed by Mike Cahill, and now "Sound of My Voice," co-written and directed by Zal Batmanglij. I became such a fan of Marling's work that if she actually were a cult leader like her character Maggie (who claims to be from the future), I might be tempted sign up on the spot if that meant I could experience more of Brit's unique, gifted voice. Marling and Batmanglij are currently finishing up their next feature, "The East," about a woman who infiltrates an anarchist group and falls in love with the leader.
"Sound of My Voice" tells the story of a journalist (Christopher Denham) who enlists the help of his girlfriend (Nicole Vicius) to infiltrate and expose a secret cult led by Marling's character. I sat down with Brit Marling in a hipster Beverly Hills hotel, a far cry from the cramped San Fernando Valley basement where Maggie instructs her followers.
MSN Movies: I'm stunned by how unique and different your films are. Where do you get your ideas and how did you manage to get two such non-mainstream films released in the same year?
Brit Marling: I met Mike and Zal in college and we formed a tribe early on—at a time in life when you really have the freedom to experiment and play. That's the kind of mentality we brought with us when we came to L.A. At first we tried to make films within the system, but the system was just not going to accept us. I mean, can you imagine our pitch meeting with studio executives when we'd tell them that Zal was going to direct our film as a first-time director and that I was going to play the lead when I wasn't even in SAG? Nobody was going to make these movies. So we thought, okay, let's just make them ourselves!
How did you have the confidence and chutzpah to pull that off?
It was actually an amazing thing to do—very liberating! It just required a shift in mentality. I think when you come out here as a young person, you're looking for approval, you're looking for the system to say, "You're okay, kid, you can do this, you can act, you can write!" And then at some point you think, wait, the system doesn't actually know. Nobody knows except for you what you may be capable of doing and the only way to figure it out is to just begin.
That's a great lesson to learn when you're still young and unjaded. Do you think there was a little "ignorance is bliss" going on? Did you know how difficult it would be to make a film, much less get it out there?
There was a lot of faith on our part, but also a lot of doubt. It's not like we weren't afraid, I think I was afraid every day when I doing Maggie. Is this working? Is this cult leader believable? Do I really have the energy and charisma to hold the attention of this cult? It was all really hard work. And I'm thinking all that at the same time Zal and I are driving all over the Valley looking for locations!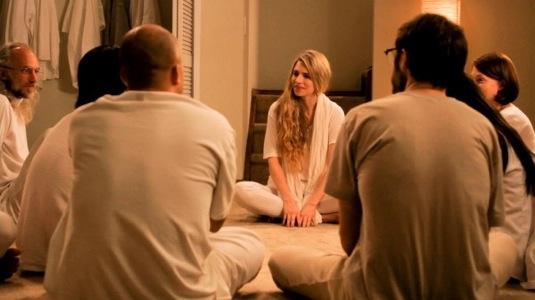 I guess I'm safe in assuming that your budget was extremely low for this film?
Yes, close to non-existent! The fact that Zal and I were doing our own location scouting should give you an idea. We had to be very resourceful—remember​ the scene where Maggie wakes up in a crack den? We literally drove downtown and just wandered into one decrepit hotel after another until somebody offered us crack! Okay, let's shoot that scene here! In the end, we saw our smallness as a positive instead of a negative—we got to go to places that a $100 million movie wishes it could go. If you're making "The Bourne Identity," you have so many concerns to answer to, but we had the freedom to do whatever we wanted.
Are you worried that some of that freedom might go away now that you're getting attention and acclaim?
Here's the thing that I think about life—if you manage to get into a space where you don't need that much, where the overhead of your life is not that great and you're pretty happy and relaxed without that much stuff, you are really liberated because you never have to say "yes" to something because you want another refrigerator or car! Right now I'm at a point in my life where I live very simply, I don't want that much stuff, I just want to tell good stories. And I want to tell stories that hopefully add something, that aren't derivative. I'd like to continue, and I think Mike and Zal feel the same way, writing characters and women that are very strong and have agency. When I was a kid and going to the movies I was overwhelmed by the way women were always second-class citizens in the film. They were always disposable, they're always the wife, the girlfriend…
…the drug addict, the prostitute…
Totally! How many episodes of TV shows open up with someone discovering a naked girl in a dumpster? Why so much violence against women? You want to create things that are moving in the opposite directions from that.
Were there parts of Rhoda (Marling's character in "Another Earth") and Maggie that you could personally relate to?
I think I can relate to anyone, but I'm always trying to write things that are outside my experience. I think what's so attractive about acting is that you get to live several lifetimes in one. If you really dive deep in these characters and you really believe these catastrophically climactic things are happening to you, Rhoda, or to you, Maggie—wow, what a vibrant way to live your life! I never want to do something where I feel, oh, I know that girl.
I know you have acting gigs coming up in some big Hollywood movies—"Arbitrage" with Richard Gere, Tim Roth, and Susan Sarandon, and Robert Redford's new film, "The Company You Keep," about a former Weather Underground activist. Do you hope to always keep making your smaller indies along with the big studio films?
Yes, I'd love to always do the two, and I think you can do big studio movies that still have good ideas and good characters. Whenever I read a script, I take off the cover sheet—I don't look at who's in it, who's directing, or how much it's being made for, I just read the story. The story has to be good and the character has to be something I've never done before that I'm a little intimidated by. And then you can start to think who's involved and where it's being made.
Was it a very different experience making those big films compared to "Another Earth" and "Sound of My Voice?"
It was actually quite lovely to just come to the set as an actor and do your job and then leave and not have to be there through the editing process or worry about how we're going to get money for that reshoot. I really enjoy acting in other people's landscapes and imaginations.
You're so associated with your first two films that I think a lot of people assume you directed them as well.
Oh, God, it's so terrible, please dispel that myth! There's no way I'd ever be doing what I'm doing if I hadn't met Mike and Zal in college—I had the incredible fortune of meeting up with two of the best filmmaking voices of our time and getting to write with them. Mike Cahill and Zal Batmanglij are unparalleled in their talent.
Would you ultimately like to put on the director's hat as well?
No, I just really love acting, and I only started writing because I wanted to find a way to act!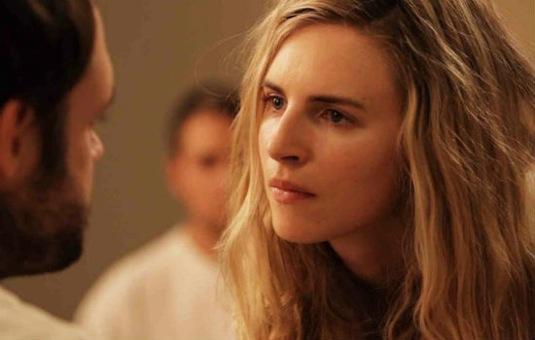 Without revealing any spoilers, I have to say that I really believed that Maggie was from the future, even though other people I know think I'm insane! The cool thing about your films is that they're like Rorschach tests—the way people perceive them says as much about them as it does about the content of the film. There's a lot in "Sound of My Voice" that's left open to interpretation, but did you and Zal have to have a specific point of view about Maggie when you were making the film?

Yeah, Zal and I had to know her story from a writing perspective and I certainly had to from an acting perspective as well, but what I love about this film is that people don't walk out of it feeling ambiguous, everyone walks out saying, "Oh, this is what happened!" The fights about it are amazing! At Sundance I was on a bus and I heard these people talking about what they thought "Sound of My Voice" was about. Their friends said "Oh, no!" and they got into this huge fight on the bus about whether this was possible, time travelers living among us. People have so much conviction, it's very cool! I love cinematic experiences that tell you something about yourself that you didn't know before.
Modern life has gotten so strange, we all get 150 emails and text messages a day, and it's hard when things are moving that quickly to keep that sense of wonder about being alive. The weather, the stars at night, the possibilities of time travel, that there were once dinosaurs roaming the planet—the world's existence is so extraordinary. Who even knows if time is happening linearly, maybe we're just perceiving it that way—maybe we're living it out of order and something else is constructing it that way. One thing that I'm sure is true is that we humans are limited in our intelligence and in our ability to perceive things, so we really have no idea what's going on!
("Sound of My Voice" is currently playing in select cities.)