Videodrone Collectible: 'Harry Potter Wizard's Collection'
The definitive box set of the "Harry Potter" film series arrives for the gift-giving season
"Harry Potter Wizard's Collection" (Warner) is the definitive box set of the "Harry Potter" film series.
By which I mean, this is big. Really big. 31 discs with three editions of each film – on Blu-ray, DVD, and UltraViolet – plus both 2D and 3D Blu-ray versions of "Harry Potter and the Deathly Hallows – Part 1" and "Part 2," along with featurettes, interviews, commentary, interactive functions, and other supplements, all secreted away in a labyrinth of a limited edition gift box that measures nearly a foot square and weighs 19 lbs (or so the press notes tell me; I didn't check their figures, but it's got heft).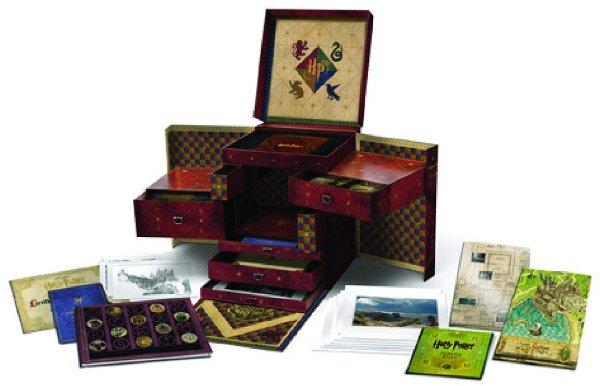 That box is part of the fun. It looks like a storage chest for Hogwarts students on the outside. The lid opens up on a hinge, the front flap (held in place via the modern magic of hidden magnetic clasps) folds down, and the sides slide open, revealing hidden drawers filled with discs and movie memorabilia items. If it's not quite a toy, it is quite the magical chest.
Each film comes in its own squarebound case with bookleaf pages and trays that make it easy for both adult hands and little kid fingers, and an easy-to-read table of contents for each disc. If that seems like a minor detail, you probably don't have kids who are prone to lose booklets and inserts from disc cases. Prying the cases out of the little drawers can be trickier but the cases will also look just fine lined up on a bookshelf. And doing so will likely extend the life of the box. And if you reach all the way to the back of the box and pluck the tile on the back wall, you'll find the bonus disc tucked inside. Nice.
So what's new to the set?
Continue reading at Videodrone
For more releases, see Hot Tips and Top Picks: DVDs, Blu-rays and streaming video for the week of September 4