Happy 100th Birthday, Gene Kelly!
The brilliant entertainer forever changed the movie musical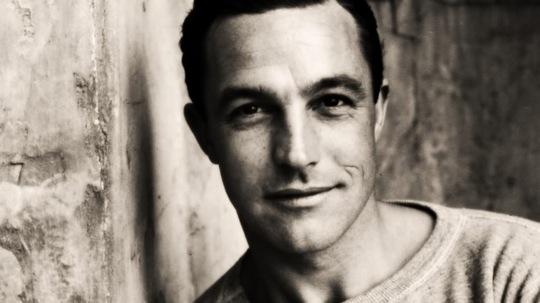 Gene Kelly, one of the greatest performers in the history of the movies, was born 100 years ago today in Pittsburgh, Pennsylvania. I attended a magical evening in Kelly's honor last May at the headquarters for the Academy of Motion Picture Arts and Sciences headquarters in Beverly Hills. It was hosted by his widow, Patricia Ward Kelly, and kicked off a yearlong celebration of the dancer/actor/singer/​choreographer/direct​or. The huge auditorium at the Samuel Goldwyn Theater was filled to capacity at that event with Kelly's family, friends, colleagues, and fans.

Moving away from the more well known examples of Kelly's work, Patricia showed clips that were Gene's favorites, each one accompanied by memories he had shared with her about the number or film. After watching the amazing "Alter Ego" clip from "Cover Girl" (1944), in which Kelly dances with a ghost image of himself, Patricia said that Gene felt this was the most difficult number he ever filmed. In those days long before digital photography or special effects, the number was created by double-exposing the film inside the camera and required Gene to do two separate dances with such precision that everyone on the set thought it would be impossible to achieve.
Kelly hated making "Living in a Big Way" (1947) and only agreed to do it to help out star Marie McDonald. The film was a mess but director Gregory La Cava took pity on Gene and let him choreograph three dances that ended up being among the best he ever put on film. We watched the incredible construction site number that Gene did (with no special effects or stunt men) in which he is bounding across tiny planks of wood and soaring through the air on a ladder that is hurling from one building under construction to the next. Kelly's athleticism was evident in every clip, with many featured guests talking about his unbridled masculinity. ("If a man looks like a sissy when he's dancing," Gene once said, "he's just not a very good dancer!")
Take a look at the amazing construction site number after the break.
Throughout the evening, Patricia pulled out several of Gene's prized possessions from a heap of boxes that were piled to the right of the stage. His very own Irish sheleighly that he kept near his bed, the emerald green hat he worse in "The Hat Me Father Wore Upon St. Patrick's Day" number from "Take Me Out to the Ball Game," and the singed sheet music (Kelly's house burned to the ground in the early 1980s) of the song "Singin' in the Rain" featuring his elaborate handwritten dance notations ("…put umbrella on left shoulder here").
Patricia said that when she showed "An American in Paris" (1951) in France a few years ago, French officials commented that she must be thrilled to be in the city where her husband had made the film. She had to remind them that the entire film was shot on the MGM lot in Culver City! For the charming "I Got Rhythm" number, the children of all the French ex-pats in Hollywood were called into the studio. Gene loved working with kids, but he preferred the non-professionals and they really came through in this scene which we watched. Patricia then introduced one of the young children from the clip who was in the audience (and is now a senior citizen!).
Scenes from Kelly's powerful dramatic performance in "Inherit the Wind" were shown as well as a rare 70mm print of the lavish "As the Parade Passes By" from "Hello, Dolly" (1969), one of Kelly's directing efforts, but not one he had a great time making thanks to his warring co-stars, Barbra Streisand and Walter Matthau.
It was a one-of-a-kind evening that reminded us again how much Gene Kelly revolutionized the movie musical with his fluid, athletic dancing style and other innovations. I look forward to more tributes during this centennial year as well as the book Patricia Ward Kelly is putting together from the many hours of interviews she did with her late husband about his long career.
During his life, despite being constantly asked, Kelly had enough class to never reveal who his favorite dancing partner was. I enjoyed seeing him dance with so many great performers, from Rita Hayworth to Judy Garland to Leslie Caron, but for my money, some of his greatest dances were with the legendary Cyd Charisse. Here are Gene Kelly and Cyd Charisse in the famous dance number from "Singin' in the Rain."
Are you sure you want to delete this comment?