Tom Cruise stars as Tom Cruise in first 'Oblivion' trailer
Sneak peak also includes Morgan Freeman cameoing as Morpheus from 'The Matrix'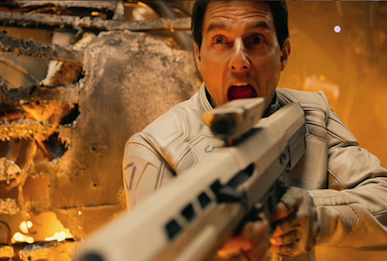 So little time, so much to Cruise. Er, we mean "do." But who can't spare a few minutes for a daily dose of Cruise? Sorry, we have Tom Cruise on the brain. And this newly released teaser trailer for "Oblivion" is why.
"Oblivion" has it all: spaceships that look like dragonflies; wall-to-wall CGI everything; Morgan Freeman in intimidating, tinted eye-wear; and Tom Cruise at his most Cruise-iest, oozing cockiness and (potentially) unearned bravado through his ubiquitous, "War of the Worlds"-era Yankees cap. The film's premise? It's the future, and Earth has been more or less rendered uninhabitable due to a war between mankind and some vaguely ill-defined baddies. For some reason, in this future world, Tom Cruise isn't President of the Galaxy, a cult leader, or even a major pop-culture figure or underwear model or anything. No, he's basically a glorified janitor, a robot repairman who cavorts around the deserted planet repairing "Wall-E" like drones. But then he's taken prisoner by some people, and then there's a conspiracy and stuff, and the girl from "Quantum of Solace" shows up, and Cruise may or may not know her from some unspecified time in the past, and then BAM! Explosions and gunfire.
Intrigued? Check out the trailer, posted after the break, and let us know what you think in the comments...
Are you sure you want to delete this comment?