Interview: Anne Heche Goes Dark to Find the Humor in 'That's What She Said'
Carrie Preston's ensemble comedy also stars Marcia DeBonis and Alia Shawkat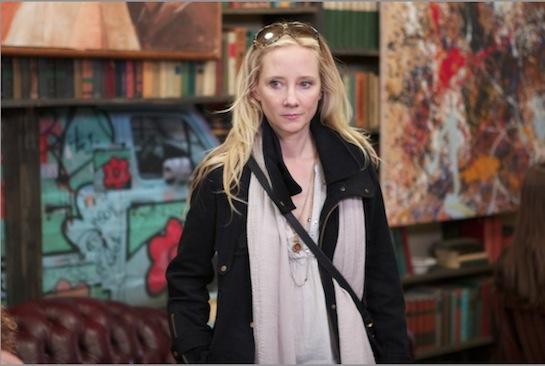 Bursting on the scene in the 1990s in films such as "Six Days Seven Nights," "Wag the Dog," and "Return to Paradise," Anne Heche was respected as an actress but soon found herself hounded by the tabloids for her relationship and public break-up with a well-known celebrity. In her 2003 memoir, "Call Me Crazy," Heche bravely described her painful childhood and the aftereffects of the abuse she suffered. In recent years she has starred in several TV series and has appeared in a bunch of small but interesting independent films.

In "That's What She Said," a new film by Carrie Preston ("True Blood," "The Good Wife") and written by Kellie Overbey (based on her hit play "Girl Talk"), Heche has a field day as self-destructive Dee Dee, a chain-smoking, obscenity-spewing woman who has plenty of bitter advice for best friend BeBe (Marcia DeBonis) and a nymphomaniac stranger named Clementine (Alia Shawkat) who has glommed on to the pair and won't let go. I talked to Anne Heche in Los Angeles about this quirky look at women's friendships.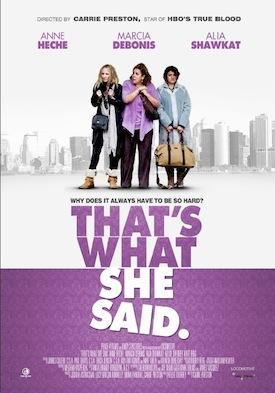 MSN Movies: It had to be a blast playing someone as raunchy and out there as Dee Dee.
Anne Heche: Oh my God, it was the best. I smoked so much I never want to touch a cigarette again! My husband was hilarious as I was getting the character together. I'd run the dialogue with him and he'd just say, "Darker! Darker!" I had to dig in some really murky waters to make Dee Dee come alive.
I loved the introduction to Dee Dee. Her apartment is a disaster and every time she moves it seems like an ashtray full of cigarettes is falling on her head!
Yes, we wanted it as ugly as it could be going in! It's funny how nobody smokes like that anymore! The other night I did Craig Ferguson's show and brought a clip with me but they had to show a different one because you're not even allowed to show someone smoking on TV! But I knew Dee Dee had to be a chain smoker. Any consciousness about caring for herself or others I had to remove in order to be her!
Bing: Anne Heche | Carrie Preston
And yet as much of a pain in the ass as she is with Bebe, I still felt like she really cared about her.
But since she's learned everything the hard way, I wanted all of Dee Dee's advice to come from a place of "I know better than you!" She's insanely self-centered! Even if something came from a place of wisdom, I wanted everything she did to grate on Bebe's nerves. That's what was so much fun about playing this character!
I know Marcia DeBonis was in the original play. How did you get involved with this project?
I came in through a funny back door. I had worked with Alec Baldwin on the play "Twentieth Century" on Broadway and he called me one day and said "Heche! There's a role you need to do. You gotta get this film made for Kellie. I think you're the only one who can pull it off!" Kellie was in "Twentieth Century" with us, she was the pretty blonde girl, I didn't even know she was a writer. I was about to get on a plane to go do Letterman in New York so I read the script on the plane. The second I read the opening scene where Dee Dee is brushing her teeth while smoking, I was in!
Who wouldn't want to play a part that fun!
I know, who wouldn't? The challenge was making it believable that a person could be that self-destructive with so many issues! She was a total wreck and kept on being a wreck, they never pulled away from that, which I love—at least not until the very end when it's sort of beaten out of her! I thought it was a very brave script, very fearless writing about women. And hilariously funny. So as soon as I landed I called my manager and ended up meeting with Carrie and Kellie that night. I loved that they wanted to do such a raw look at friendship and women and not make it pretty around the edges.
It has to be a good feeling to know that your involvement can help get a small film like this off the ground.
I'm so grateful for the body of work that I've done and that it's allowed me to help someone like Carrie direct her first feature and help Kellie have her words heard. I feel very honored to play a role in helping them, their commitment and energy for this project was unbelievable.
I'm really glad that they kept Marcia DeBonis as Bebe.
They told me that Marcia was their choice, they were simply not willing to do it another way. I so admired their commitment to her and told them I could think of only one person who could pull off the nymphomaniac character with the right amount of truth and humor and that was Alia who I had just worked with on "Cedar Rapids."
I can't think of any film since "The Women" where it's only women speaking, you never hear a man utter a line. I assume you're familiar with that classic film?
Is that the one where they're all living together in a house. [Heche launches into a perfect Katharine Hepburn imitation.] "The calla lilies are in bloom again…"
No, that was "Stage Door" with Hepburn and Ginger Rogers. I'm talking about "The Women" with Norma Shearer, Joan Crawford, Rosalind Russell, Virginia Weidler…
No, I haven't seen it! You know, I wasn't raised on movies at all, we didn't even have a TV when I was growing up so I'm way behind on my classic films.
It's funny because you seem like someone who would fit in so well with those actresses from the 1930s and 40s.
I love that people compare me to them! When I did "Twentieth Century," I read a review that said I had obviously crafted the character based on several different actresses from that time. Some people thought I was doing Hepburn, some people thought Carole Lombard. I hadn't even seen Lombard's film version of that play when I did it. I just look for a character's voice. If I can't hear it clearly in my head, I don't think I'm right for the part. When I finally saw Carole Lombard in that film, I was absolutely thrilled that anyone compared me to her! I was like, "What? Are you kidding?"
So you never saw any of those great actresses when you were growing up?
No! The very first movie I ever saw, believe it or not, was "Star Wars!" I remember telling Harrison Ford that and he just looked at me dumbfounded. But I love humor that comes from strength, that's what might harken back to the old classic films. In those days humor was borne from storytelling, not from joke-telling. And, of course, actresses couldn't be very bawdy back then so the humor had to come from wit and cleverness and the way they spoke. That's why I loved doing "Twentieth Century" so much, Alec and I had so much fun. I also did "Adam's Rib" with Alan Arkin and then saw the wonderful movie with Tracy and Hepburn.
It's refreshing to see so many female leads in a movie like this. Of course, like "The Women," they talk a lot about men!
Yes, at the beginning of the film we see that the identities of all of these women is completely filtered through men, their self-esteem is so wrapped up in how men respond to them even though we never see the guys they're obsessing about. I think not seeing the faces of the specific men makes the film all the more powerful for the women in the audience, it makes it easier for them to think about their own relationships and how much of their own power they give away. I can't wait to see how they do that in "The Women"—I'm definitely renting that film tonight!
"That's What She Said" is playing in New York and Los Angeles.