James Cameron Plots 'Avatar' Prequel
Or maybe even a prequel trilogy?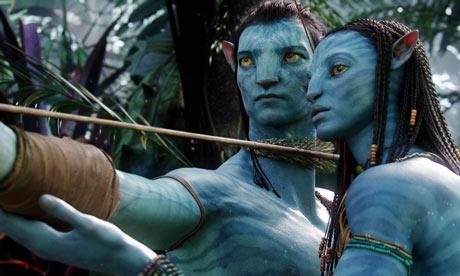 James Cameron has long stated that he is in the "Avatar" business, now and forever. Considering the first film in the ostensible trilogy made nearly $3 billion worldwide, we can't exactly fault him. Still, Cameron hasn't yet completed writing the screenplays for "Avatar 2" and "3," so planning an "Avatar 4," that would be a
pre
quel, would seem a tad premature at this point.
Yet that exactly what Cameron is planning, as per
MTV News
. (And when have they ever been wrong?) The idea would be to fill in the backstory of "Avatar 1"—as it will surely come to be called in the future, according to Cameron—detailing the first 35 mostly disastrous years of human-Navi relations. Now, is Cameron going all George Lucas on us? Yes and no.
Cameron acknowledged that the "Star Wars" prequels were an inspiration, but that he wouldn't ape those films' tone, plot, or pretty much anything else about them, in any potential "Avatar" prequel or prequel trilogy. As for his idea of populating the prequel with "legacy" characters, who would still have some importance in the originals, well... The only problem with that is that Sigourney Weaver isn't getting any younger. We suppose he could use CGI to de-age her, a la Patrick Stewart and Ian McKellan in the opening of "X-Men 3"—and that would be such a Cameron-esque thing to do—but...
What do you think, Hitlisters? Would you be interested in an "Avatar" prequel? Or prequel trilogy? And what bounds of filmmaking will Cameron be breaking next? 48 frames-per-second? 60 frames-per-second? Rumble seats? Smell-o-vision? Perhaps not. As always, let us know in the comments, or tell us on MSN Movies 
Facebook
 and MSN Movies 
Twitter
.