Second trailer for 'The Big Wedding' boldly reminds us that everyone loves weddings
We'll have to see if the same sentiment applies to the final film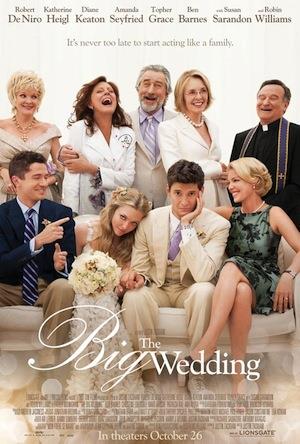 It used to be that a film that included stars like Robert De Niro, Diane Keaton, Susan Sarandon, and Robin Williams seemed primed for greatness - sadly, that time time has long since passed, or at least ended when the four talents signed on for Justin Zackham's flaccid-looking "The Big Wedding." Prepare for nuptial-themed hijinks!
In the upcoming film, De Niro and Keaton play a pair of long-divorced almost-enemies who already seem to be pushed to the edge just by being around each other, but who will only find things to be much worse once they learn that they need to feign marriage for an upcoming wedding. Turns out, their adopted son's (Benjamin Barnes) wedding to Amanda Seyfried will be attended by a very special (and deeply Catholic) guest - his birth mother. And, yup, said birth mother doesn't know that the people who raised her son are divorced. See! Hijinks!
This new trailer certainly makes the film look like more of a "wacky" outing than the one we saw portrayed in the film's first trailer a few months back, which definitely seems like the best way to sell this thing. It's just wacky! It's just good fun! Forget about things like "Taxi Driver" and "Annie Hall"!
Check out the second trailer for "The Big Wedding," thanks to
PeliBlog
, after the break.
"The Big Wedding" opens on April 26 (yes, it was pushed back from October).