MOD Movies: Singles from sets with Randolph Scott, Budd Boetticher, and William Castle
Previously only available in box sets, these films are now a la carte on MOD
By 
SeanAx
 Jan 13, 2013 12:24PM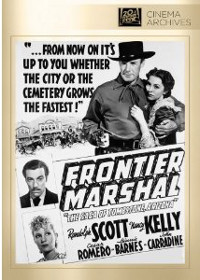 The manufacture on demand stream of DVD has been responsible for some long-awaited debuts of classic and cult titles and some great discoveries of little-known films. 
But along with disc debuts, Sony and Fox are using the MOD stream to offer individual copies of films otherwise only available in DVD sets. While in some cases the titles may be of interest to limited numbers of fans (fans of Budd Boetticher's "The Tall T," for instance, are also likely to be fans of the rest of the films in the box set it came in), that's kind of the point of MOD: for those few folks who just want the one film, here's your chance.
Case in point: "Frontier Marshal" (20th Century Fox Cinema Archives), the 1939 western directed by Allan Dwan. The second adaptation of Stuart Lake book "Wyatt Earp, Frontier Marshal" and the blueprint for John Ford's "My Darling Clementine" a few years later, it's the story of Wyatt Earp and Doc Holliday and the gunfight at the O.K. Corral, albeit without the Earp brothers or the Clanton family. Randolph Scott plays Wyatt Earp as an upright man, easy-going and stalwart, and Cesar Romero is the flamboyant John 'Doc' Halliday (yes, his name has been changed), the high-living gambler who takes an unexpected liking to the new Marshal.
John Carradine essentially takes the place of Ike Clanton as a saloon owner who tries to take over the town and sends his henchmen (one of them played by Lon Chaney Jr.) to take out Earp, but the film is more focused on Wyatt's friendship with Halliday and the two women his life: the possessive showgirl (Binnie Barnes) and the good girl from the East (Nancy Kelly) who comes looking for the runaway Dr. Halliday. Ford appropriated this storyline for "Clementine," but otherwise hewed a little closer to the real story, adding Wyatt's brothers and Ike Clanton and his boys back into the story. But it is surprising to see how similar these threads are in the two films. Dwan was an old pro who started back in the early silent era and a smart storyteller and Ford wasn't above borrowing from an elder.
This was previously available only in the six-disc "Ford at Fox Collection: The Essential John Ford," basically an exclusive supplement to a set otherwise carved out of the massive "Ford at Fox" box set, which means anyone who sprung for the epic set was out of luck on this film. This release is made from the same excellent digital master and features a strong, sharp image. Which makes it one of the best (maybe the best) of the 20th Century Fox Cinema Archives releases to date.
Continue reading at Videodrone
For more releases, see Hot Tips and Top Picks: DVDs, Blu-rays and streaming video for week of January 8