No thanks for 20th Century Fox this year as studio cancels 'Independence Day' 3D re-release
Perhaps the only 3D re-release we were looking forward to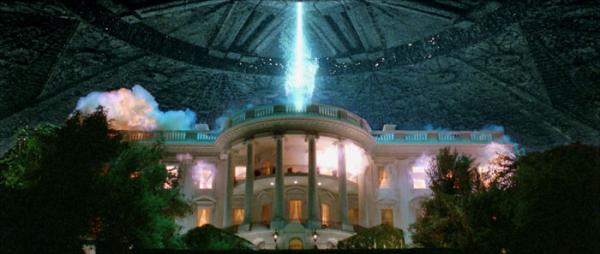 Well, sorry, Hitlisters, we can call off our day of giving thanks right now, as 20th Century Fox (via
ComingSoon
) has announced that they have called off their
own
plans - the ones centered on their 3D re-release of "Independence Day," a project which has now been officially cancelled. The original plan to post-convert the 1996 Roland Emmerich film (a "new classic," if you please) was announced back in May of this year. 
While the post-conversion of new films to 3D has met with mixed results ("Clash of the Titans," anyone?), a number of previously released films that have gone the re-release route have found sound success (Disney, in particular, has done solid business with their re-release of animated tales, most recently with both "The Lion King" and "Finding Nemo"). For a film like "Independence Day," whose appeal has somehow endured ("welcome to Earf!"), a 3D re-release seemed like a seriously fun idea, and the news that it will not happen is unexpectedly crushing.
It's still unclear what this news means for the two potential sequels to the film (reportedly called "ID Forever  - Part 1" and "ID Forever - Part 2") that Emmerich has been chatting up. Our bet? They won't happen.