Tonka Trucks To Become Animated Movie Somehow
When will Hollywood learn?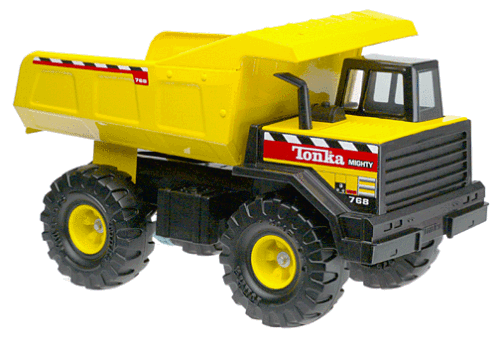 The day "Transformers" became a blockbuster was both a great day for moviegoers—who doesn't love exploding robot aliens?—and a terrible one for western civilization. Or at least our culture. Hollywood executives, their better judgement clouded by rapacious greed, decided that "brand" was more important than "story," and that marketing a film was more important than actually making it good.
The result? The recent atrocity "Battleship," for one, and innumerable other projects based upon the board games and other properties owned by toy giant Hasbro. "Yes," Hollywood must have though, "Millions of children around the world play with these, uh, cheap, play, things... Therefore they must want to see movies about them!" Ignoring that "Transfomers" and "G.I. Joe" succeeded not because they were easily recognizable brands (which they were) or were endless streams of explosions and violence (ditto), but because they were about characters, and had stories. Maybe not the best or most sympathetic characters, or most intricately, artistically crafted stories, but that's besides the point.
What characters does "Battleship" have? Or "Ouija" for that matter? "Clue," another successful board game adaptation, has an easily identifiable plot (a murder happens) and even more "colorful" characters. (Miss Scarlet, Mrs. White, etc.) On the other hand, "Monopoly," a long-dorman board game adaptation that still may eventually get made (but let's hope not), doesn't have either. (Unless you count a wheelbarrow, a shoe, or a pot of gold as characters.) What would the plot of a Monopoly movie be? Man buys railroads, builds houses, makes a fortune... Until he has to stay in one of his rivals' hotels? Then he goes bankrupt? Would this (hopefully still hypothetical) "Monopoly" movie contain the actual game's three most crucial elements: 1) lasting for 8 hours, 2) until someone, usually the banker, cheats like a maniac, upon which 3) someone else violently overturns the board, thus ending the game, leaving everybody frustrated and angry?
In a similar vein, what would a "Tonka" truck movie look like? According to
The Hollywood Reporter
, we'll soon find out, courtesy of Sony Pictures and Happy Madison. (That's Adam Sandler's production company, FYI.) Is this the dumbest idea ever proffered by Mr. Sandler? (Er, no, probably not.) And most importantly, will Hollywood ever learn? (Rhetorical question.) As always, we'll bring you the answers as they become available...
Are you sure you want to delete this comment?