Weekend box office: 'Skyfall' best Bond opening ever
After 50 years, the franchise is alive and kicking butt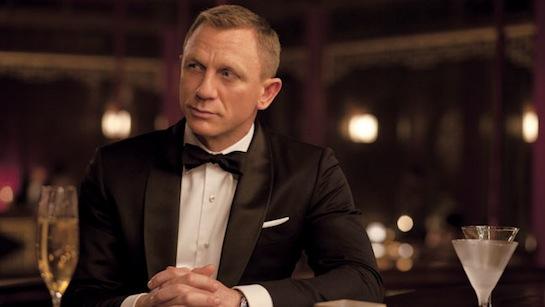 It's been 50 years since a tuxedoed Sean Connery first appeared on screen as Ian Fleming's Agent 007. Twenty-three films and 6 James Bonds later, "Skyfall," directed by Sam Mendes and starring Daniel Craig, has quickly become the highest-grossing film of the series. Craig's third outing as the suave secret agent has already earned over half a billion dollars worldwide with its release two weeks ago overseas and its stunning opening success in this country. And that's with less tuxedos, fewer Bond girls, and a (welcome) absence of "shaken, not stirred" jokes. Fans who were worried about reports in recent years that the films were winding down and no longer relevant for today's audiences can rest easy: the 24th and 25th James Bond films are already being written.

"Skyfall" dominated the North American box office this weekend, earning a whopping $87.8M (at 3,505 theaters) and the best reviews of this decade's Bond films. Last week's big opener, "Wreck-It Ralph," continued to perform well. The #2 film added $33M this weekend (at 3,752 theaters) for a domestic total of $93.6M. Denzel Washington also continued to fuel Oscar buzz for the #3 film, "Flight," which pulled in $15.1M in its second week (at 2,047 theaters) and a domestic total of $47.7M. At #4, the much-heralded "Argo" added $6.7M (at 2,763 theaters) to its domestic gross of $85.7M while "Taken 2" stayed put at #5, adding $4M (at 2,487 theaters) to its domestic total of $131.2M.

The rest of the films on the list were nothing to get too excited about. All of them hovered around the $2.5M mark for the weekend. "Here Comes the Boom" jumped up three spaces to #6, earning $2.55M (at 2,044 theaters). At #7, "Cloud Atlas" came in at $2.52M (at 2,023 theaters), while the #8 film, "Pitch Perfect," also jumped up the list with $2.5M in ticket sales (at only 1,391 theaters). Plummeting to #9, last week's "The Man with the Iron Fists" brought in $2.4M (at 1,872 theaters) while "Hotel Transylvania" rounded out the Top Ten with $2.3M (at 2,566 theaters) for a domestic gross of $140M.

Besides James Bond, one other man dominated the weekend: Abraham Lincoln. Steven Spielberg's powerful film about our country's 16th President was only playing in 11 theaters nationwide, but its per-screen average was an impressive $81,818, more than three times the average for theaters showing "Skyfall." Expect to see "Lincoln" leapfrog onto this list as soon as it expands into more venues. Not that it will get anywhere near the top spot next weekend. It seems pre-ordained that that honor will belong to Edward, Bella, and Jacob, our three otherworldly heroes who will be enjoying their final opening weekend in "The Twilight Saga: Breaking Dawn, Part 2." I expect to see the Twihards starting to line up any minute.