Lily Collins as Audrey Hepburn?
The ad campaign for "Mirror Mirror" seems to borrow heavily from Hepburn's first feature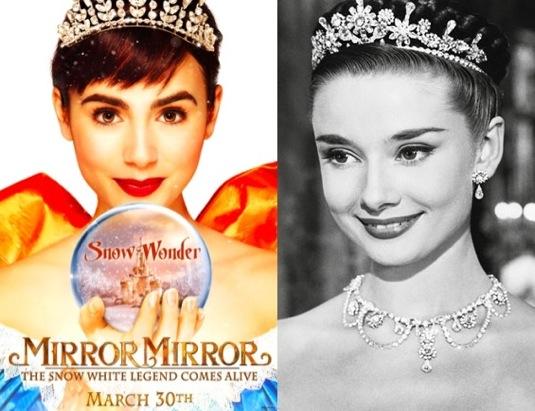 Billboards for Relativity Media's "Mirror Mirror," the first of two upcoming films based on the Snow White story, are popping up all over town and every time I see one I practically veer my car off the road. The reason? The lead in the film, Lily Collins, looks so much like young Audrey Hepburn in the ads that it shocks me every time. I have to believe it's a deliberate move. The 22-year-old actress, who played Sandra Bullock's daughter in "The Blind Side" and Taylor Lautner's love interest in last year's "Abduction" is the same age that Audrey Hepburn was when she sailed into her first starring role, opposite Gregory Peck, in William Wyler's wonderful comedy, "Roman Holiday." Check out the images above and tell me if you think there's any doubt Collins' appearance was modeled after "Roman Holiday's" Princess Ann.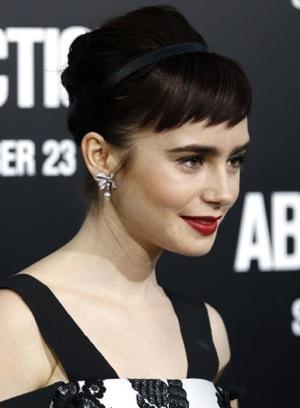 At first I was offended by the co-opting of Hepburn's look for this film, directed by Tarsem Singh and co-starring Julia Roberts and Armie Hammer. But eventually I started to enjoy seeing a young and beautiful Audrey Hepburn staring down at me from nearly every billboard in town. Turns out it's not a fluke. This photo of Lily (who happens to be the daughter of British musician Phil Collins) was taken at the premiere of "Abduction." Either she bears an uncanny resemblance to the late Oscar-winning humanitarian or her handlers are doing everything in their power to help Collins channel the gorgeous star of yesteryear. Although it was her first major film role, young Audrey Hepburn won the Academy Award for Best Actress for "Roman Holiday." I haven't seen "Mirror Mirror" yet but I think it's safe to assume that Collins will not repeat that feat. The film opens on March 30. Two months later, Universal's "Snow White and the Huntsman" opens nationwide with "Twilight's" Kristen Stewart in the title role and Charlize Theron as the evil queen. Will Stewart also be modeled after one of the great beauties in movie history? I can imagine the folks behind that film trying to transform her into a young Elizabeth Taylor. Better yet, with the advanced state of computer technology today, why don't we just forget about the moping Collins and Stewart and plop Hepburn and Taylor into those two films?
Are you sure you want to delete this comment?