Production Starts On 'The Hunger Games: Catching Fire'
The hotly anticipated sequel aims for a November 22, 2013 release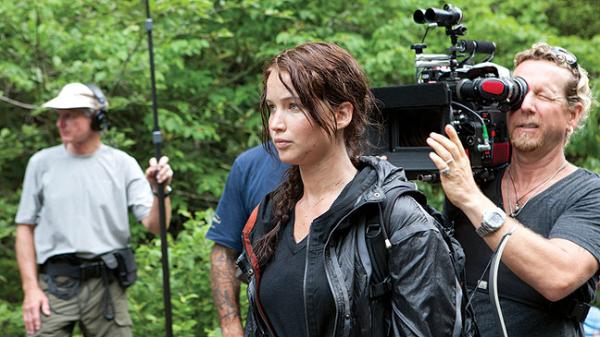 Great news, everybody! Director Francis Lawrence ("I Am Legend," "Constantine") and stars Jennifer Lawrence (no relation), Liam Hemsworth, and Josh Hutcherson et al. have officially started production on "The Hunger Games: Catching Fire."
According to
The Hollywood Reporter
, the shoot will take place in and around Atlanta before moving to Hawaii, and will wrap sometime in December. Which would seem to make for a pretty tight post-production schedule, until one realizes that "Catching Fire" won't be coming out in March like "The Hunger Games" did, but will be seizing upon the plum pre-Thanksgiving slot previously occupied by heavyweights like "The Twilight Saga" and "Harry Potter."
The film will also star Elizabeth Banks, Stanley Tucci, Jena Malone, Toby Jones, Woody Harrelson, Phillip Seymour Hoffman, Donald Sutherland, Lenny Kravitz and Jeffery Wright, amongst others. The premise? Katniss and Peeta are forced to go on a celebratory tour of the districts following their controversial win (as seen in the first movie), all while a rebellion quietly simmers around them... But you probably knew all that already, because you read the (quite excellent) books like any sensible person would.

OMGGGGGGGGGGGGGGGGGG​GGGGGGGGGGGGGGGGGGGG​GGGGGGGGGGGGGGGGGGGG​GGGGGGGGGGGGGGGGGGGG​GGGGGGGGGGGGGGGGGGGG​GGGGGGGGGGGGGGGGGGGG​GGG
I SCREAM ED I AM SO EXCITED I CAN NOT TELLL YOU I HAVE TO BE THERE. I FEEL A HOLE IN MY HEART BECAUSE THEY HAVE STARTED WITHOUT ME I WISH I COUL DBE THERE. I AM IN LOVE WITH THE SERIES MORE THAN ANYONE IN THE WORLD I CAN NOT WAIT FOR CATCHING FIRE PLEASE INVITE ME HAHA
Are you sure you want to delete this comment?