Interview: Kim Nguyen, director of Oscar-nominated 'War Witch'
The powerful Canadian film shines a spotlight on the plight of child soldiers in Africa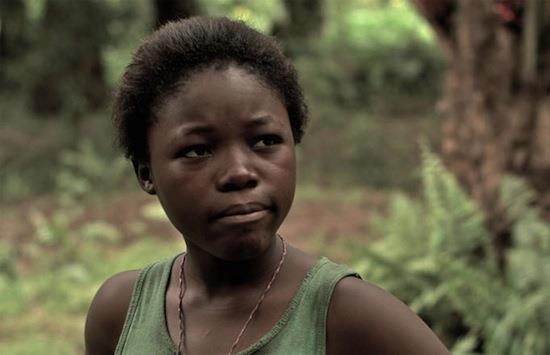 Filmed mostly in the Democratic Republic of Congo, Kim Nguyen's dramatic film tells the story of children who are brutally recruited to become soldiers in a civil war somewhere in sub-Saharan Africa. Rachel Mwanza plays Komona, a 12-year-old girl who must endure untold horrors once she is captured and forced into battle. She eventually develops a close friendship with a fellow recruit, a boy called Magician (Serge Kanyinda) and for a while they manage to escape the hell they are living through. But their peace is short-lived and they must face many terrors that are unfortunately all too real for many child soldiers in this part of the world.

Nguyen's captivating film is all the more impressive when you consider that many of his stars were non-actors he found in open calls in Kinshasa. Mwanza herself was living on the street when she was discovered and her life was forever changed by making this film. She still lives in Congo and is finally learning how to read but she has won Best Actress Awards in several prestigious film festivals and has traveled all over the world with the film, including a trip to the U.S. a few weeks ago to attend the Academy Awards. I spoke with Kim Nguyen in Los Angeles.
MSN Movies: After seeing Rachel Mwanza's magnificent performance, I'm just stunned to learn that she was not a professional actress.
Kim Nguyen: I know! Rachel was absolutely fearless and just incredible. But when we had our open calls for the film, we quickly noticed that people who lived on the street like Rachel had a particular gift. They were really strong and they had a certain awareness that lent itself beautifully to acting. I think when you're an actor going to lots of auditions and constantly being told, "No, you should be more like this or more that," you can get very self-conscious and it becomes hard to stay authentic and in the moment. But that's not the case at all with these kids. Sometimes there are things that are very particular to a culture. When I was in Tunisia doing "City of Shadows," I found that people were less at ease with themselves and it was much harder to find natural actors, but in Kinshasa you'd audition a bunch of people and one out of four was really talented!
Bing: More on 'War Witch' | More on child soldiers in Africa
Had Rachel and the other kids you used in the film seen many movies?
Oh yes, but they prefer action movies—like "Rambo" and Chuck Norris films. Rachel loves watching horror movies, especially the kind where zombies eat humans!
Now that she's had the experience of making this film, does she want to be an actress?
I think so, but Uncle Kim keeps telling Rachel that she should also learn a trade.
Yeah, like any actor!
Exactly! But she still needs to learn to read and write, she's started to learn now.  
Wow, if she can't read, how did she learn all those lines when she was making the film?
They were all improvised, actually. I wrote a complete script with dialogue but I didn't show it to the kids, I just revealed the story each day as we were filming. But oddly enough, it's really strange—the dialogue they improvised was pretty close to the script!
I know the film was not supposed to take place in Congo where you shot the film, but are child soldiers a real issue there?
Yes, not so much where we were in Kinshasa but east of there. A lot of the conflicts in the Congo and elsewhere in Africa occur because of the exploitation in the mines which is a huge business that both Canada and the U.S. take part in. It fuels the wars that are going on there and the recruitment of child soldiers.
Is it less common for girls to be recruited? 
Unfortunately no, it's almost half and half.
And are a lot of these kids really forced to kill their own family members?
Many times, yes, as a horrible way to indoctrinate them. At that point they can't go back to their villages because of the murders, their family members are gone, and they are feeling terribly guilty—all of this is used against them.  
Watching this film is so much more powerful than reading an article about the plight of child soldiers. I know you're a filmmaker, not a human rights activist, but do you have advice for people who see the film and feel that they have to do something? 
There are a few things I usually say to people. First, if you want to send money, I think it would be better to send it to development initiatives in these countries rather than funds that are set up for some emergency situation. I think we raise a lot of money in the west for emergencies but if you don't fund development you're going to find yourself in a constant cycle of throwing money at these "emergency" situations. I also think people tend to get out of countries too quickly. "Short-term" involvement for these initiatives should be more like four years, not three months.
We're so programmed to deal with crises or global catastrophes—that's when people get motivated to help.
Yes, that's mostly when the money starts coming in. But we need to look at the bigger picture. The other thing that we need to do is fund higher education, not just basic educational programs. We need to make sure that there are pools of local intellectuals who agree to stay in the country for a few years to train and motivate others, I think that's very important.
Have you screened the film yet in Congo?
Yes, in Kinshasa, which was wonderful, a real closing of the loop. And I got the chance to talk with Rachel's guardian who's a great lady. We found a really cool tutor who is working with her.
Did I hear that Rachel won a big award at a film festival?
Yes, and not just any festival but she won the Best Actress award at the Berlin International Film Festival which was a huge deal. She was there and got the award handed to her by Jake Gyllenhaal, it was insane! Of course, she had no idea who Jake was! She handled it all quite beautifully. She also won Best Actress award at the Tribeca Festival.
Does she speak English now?
No, not yet, but she should. She absolutely loves Beyoncé and she sings the English words to her song quite well!
Oh, you have to find a way to have her meet Beyoncé!
I would love to do that. I think she'd go mad!
"War Witch" opened today in New York and Los Angeles and will be playing in select cities.