Interview: Writer-Director Rian Johnson of 'Looper'
'Joseph Gordon-Levitt and Bruce Willis don't look anything alike ...'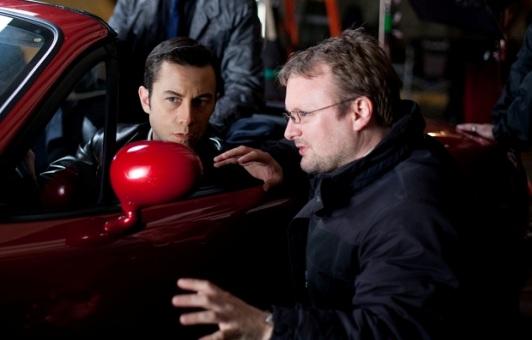 Known for directing the Sundance indie hit "Brick" and his follow-up "The Brothers Bloom," writer-director Rian Johnson has made his jump to a major studio -- and working with major movie stars -- in Sony Pictures' "Looper," his mash-up of retro film noir and forward-looking time travel, where Joseph Gordon-Levitt plays a near-future hit man tasked to kill victims sent back from a future 30 years up the line ... who ultimately has to kill, and fails to kill, his future self (Bruce Willis), leading to an existentialist gun-toting nightmare: What do you do when you're trying to catch, and kill, yourself? We spoke with Johnson in Toronto about the logistics of time-travel, working with capital-S movie stars, makeup and effects, and selling emotion with a fast-paced plot in motion.
MSN Movies: Why time travel?
Rian Johnson: Well, actually ... let me figure out the time travel thing. This weird concept just kind of popped into my head, and I wrote the idea for it about ten years ago, and at the time I was reading a lot of Philip K. Dick, so I think my brain was just kind of steeped in sci-fi notions. So yeah, for whatever reason, this idea of the basic plot -- a hit man in the present, mob in the future, they send him his older self back and there's a chase. That was kind of the initial seed of it. Time travel was just kind of a necessary element to that, I guess.
When you're working on something like this, is the number one task you assign yourself to figure out what other people have done with the concept? Did you do a bunch of like conceptual, cultural research? Did you just go, "No. I got this ..."?
                                                                           BING: Rian Johnson l 'Looper' 
Well, it's not the number one task but it is really useful ... or I found it useful just 'cause time travel was such a sticky wicket narratively. It's such a thing that it's difficult to figure out how to work (it) into a two hour movie. So seeing how other filmmakers handled it well was really useful. And for me, the model for this one was the first "Terminator;" James Cameron, you know, handled it in a way that to such an extent that it's easy to forget that it's a time travel movie. It's easier to forget that it's an element of it, 'cause that kind of time travel sets up the situation and then totally gets out of the way and it's just about the situation with these characters playing it. And we have a little more ... we toy with time travel a little bit more than that movie did, but it's the same basic concept.
It's not the whole thing where you have infinite numbers of identical people popping out of the future because it's implied it's a one-way trip.
Yeah, exactly.  It implies it's a one-way trip, and the limitations on it were the important thing. The time travel doesn't exist in the present, so a limited number of characters have access to it and know how it works. It only exists in the future. The time travel machine is set to a fixed amount and it's not tunable ... so they can only (send things 30 years back), so the gap of where this time travel machine sends people back to slides forward as time keeps sliding forward. I was figuring out things like that and also how to deal with the paradoxes. I came up with just a whole approach how the system of time travel works in terms of the universe and how the universe takes these paradoxes in and deals with them. But then you get all that in your head, and then it's a process of figuring out how little of that you can get away with explaining during the course of the film.
Because nobody's excited by a movie called "45 Minutes of Rules"?
Exactly. (Laughs) We've seen that movie.
We have seen that movie. I mean I could nerd out about plot questions and plot stuff with you for hours, but I'm not going to because I would probably ruin the enjoyment other people derive from it. But when you hire Mr. Gordon-Levitt and you hire Mr. Willis, that's got to be a great one-two punch for possibility of financing it, getting people to see it, getting it made, getting…
Absolutely.
But they don't really look alike. 
They don't look anything alike.
Was there a question of hiring anybody else or was it just like, "Sorry, you've got to wear the makeup"?
Well, I always had in the back of my head that whoever the old actor was going to be we would do something to Joe. And it was just a question of how much we would have to do. Bruce was like the first person that we cast. I mean I wrote the part for Joe, but Bruce came on very early. And so luckily we had a lot of time to deal with the fact that they look nothing alike.
We're talking like contacts, cheekbone implants, right? Like we're talking about stuff in your mouth…
(Laughs) No, there was nothing in his mouth. There was ... I guess I'll just say it was nose, upper lip, lower lip, contacts, and adjustment of the eyebrows, and that was basically it. So it was actually fairly subtle, and the other weird thing, it was all prosthetics, there was no CG work; it was all practical stuff so it was just plastic on his face. So I don't know, it was a matter of doing as little as we could while still doing enough to push it a little bit in that direction. But it's mostly just performance. That was it. And honestly watching the movie now and seeing Joe's performance there's part of me that wonders if we could've gotten away with doing nothing. But I feel like it was good to do something to kind of nudge it that way. And it was also fun. I guess that's the main thing.
(Laughs)
It was a fun challenge.
Maybe not for Mr. Gordon-Levitt.
Nah, yeah, it was and it wasn't. It was three hours in the chair for him every morning so…
There was never any thought about making Mr. Die Hard put up with three hours in the chair to look more like Mr. Gordon-Levitt?
No.
That is not how you roll? I mean you've made remarkable films, "Brick," "The Brothers Bloom," but is this your first experience rolling with a capital M movie star ...
Yes, and it was fascinating because you wouldn't have known it being on set with them. He was absolutely a joy to work with and would just completely throw himself into the process, was absolutely selfless in terms of going to the places the part required him to go to, and he was just so into it. He's such a good actor. So I'm sure he would've been down with doing makeup, and it made sense not to do it because everyone knows what Bruce Willis looks like so deeply.
Right.
We know his face so well I think it just would've been odd. It made more sense to wrap Joe around Bruce. But it's interesting the movie star thing, and I'm going to be talking around some spoiler-y plot stuff here, but I was excited about specifically what he brings to the table as Bruce Willis, who shows up in a movie with a plan to save the day by finding the right person and killing them and how the audience is immediately going to get on with him as the hero and where that ends up going…
... When he does non-heroic things.
Exactly, where that ends up going with him and how that moral turn happens, I felt was a really interesting thing, and so did Bruce. We talked about this. It was interesting though, that once we got in the edit room, you know ... there's a very definitive point in the movie where the audience's moral compass is supposed to start to turn about this character, and we realized it's really, really hard to get an audience to not like Bruce Willis.
(Laughs)
You can have him do the worst things in the world on screen and people are still going to give him the benefit of the doubt and think he must have a plan.
'Bruce Willis has his reasons, okay?'
In test audiences, we had that exact phrase spoken and it was incredible. So we found we just had to lean on the bad moments harder and harder in order to make that switch happen. It was really interesting.
When the older version of Paul Dano's character Seth has escaped and younger Paul Dano is in custody, they basically start demonstrating cause and effect in a really ugly fashion…
Yes, yes.
What I loved about that was that I didn't see there was more than one piece of CGI in it. It's something Méilès could've done, 'cause the cuts happen on the cuts, to use an ugly turn of phrase ....
Yeah, it's perspective. It's all him seeing, and that was really important too; it's that sort of thing that you get the sense that he blinked and he missed that it happened. And that was more terrifying to me than some sci-fi effect of it crumbling away or something like that. The notion that no, it's not there; it's there one moment and it's not there the next and you're losing yourself piece by piece but you can't even grasp the moment where the piece of yourself goes away. I mean that was existentially terrifying to me and that how we approached it. (With) that sequence, I'm very happy for a couple things. I'm happy it's able to give you a sense of the rules quote unquote of cause and effect but without any exposition at all, just through what's hopefully a really effective, terrifying little sequence. But also the fact that there is no gore, and like you said there aren't even any special effects. You just get it by this -- well, there are special effects.  When Old Seth starts going we had to do CGI on his nose because we're actually taking away his nose.
Right.
It's not there. There's no way to do a cavity without actually slicing an actor's nose off.
Which the union might object to.
The union has all sorts of ridiculous restrictions.
When you're making a future. where do you make yourself stop? I noticed a lot of 'old' cars had like solar panels clumsily wired and strapped to every flat surface ...
Right. Yeah, yeah.
But there's no discussion of that. We don't hear about the future's politics ... We just see this big city ...
Right, right, right.
Do you stop at a certain point because it's not relevant?
I feel like if it's not relevant, it's not interesting, either. It's not what the movie's about. I mean, if the movie was about the city then maybe we would've delved into that, but for me there was background and I mean, to the point where I feel like the, I feel like a lot of the world is kind of shorthanded. It's something that we've kind of seen in one form or another before, and that's intentional. That's 'cause I figured there's so much the audience had to absorb in the first half hour anyway. Let's give them a world that has some unique elements to it but where you can say, "Okay, we're in the dystopian near future. I get it." And we didn't have to explain, "After the fall of the financial system and the three treaties of the blah blah blah." You know where you just kind of see the world and you're like okay, I kind of know where we're at.
So you saw the new "Total Recall 2"?
(Laughs) I didn't.
Good god. That opens with more narration than a Malick film.  
I can't speak, man. We had narration at the beginning of this. But that was another choice to kind of just ... I figured you know what? The tricky concept thing of it (was) let's do the equivalent of the "Blade Runner" scroll, but with narration. Let's just lay it so people know it and get on with the movie.
But first person narration's kind of hallmark of the noir genre which…
It's true.
To me, a central theme of noir is "I don't trust anybody," and this movie's interesting because it's a noir film about what happens when there's two versions of you.
Right, you don't trust yourself.
Jeff Daniels character, who's from the future, gets to wear those ridiculous, garish shirts. How much fun…
(Laughs) Love those. He told our costume designer, "I could die in these shirts. These are the most comfortable things in the world." Yeah, we figured that character would just dress for comfort so they're basically like these velvet bathrobe type things. (Laughs)
But also the super-shiny shirt…
Yeah.
… apparently 30 years from now everybody dresses like jerks.
Exactly. It's also vaguely, like it looks sleek, it's also vague old man-ish, like it looks like the equivalent of a futuristic terry cloth bathrobe. (Laughs)
It does, yes. It looks like a future Snuggie.
Yeah, exactly.  Yeah, we're going for comfort with Jeff. We like to make Jeff comfortable.
But then with the whole noir thing, when you get Miss Blunt stepping out on her porch with a shotgun it kind of turns into this weird Western.
Yeah, it kind of shifts there, and that's ... I mean I don't know, that was I guess the film's big gambit was that shift halfway through was literally chopping the film in half at that point and taking it. But for me, I really kind of lashed myself to the mast  in terms of this script and tried to ... I did more rewriting on this script and just cut myself no slack. This is something you're supposed to do as a writer. It's not like I'm bragging about this…
You're not asking for a cookie.
I'm not asking for a cookie for this, but I really did focus my attention on making sure that that would work 'cause I knew it was a huge thing. I know that even the best circumstances it's something where people are going to be into the first half and some people the second half will be too big a disconnect for them. But for me, keeping the thematic through line and making sure it felt all of a piece by the time you get to the end, and still having that big split in the middle was what was inherently interesting about it. And that was the challenge: Can you do this whole thing, and then it does feel like a cohesive whole from start to finish at the end.
How important is casting in your process?
Oh I mean, you know, it's the old chestnut that casting is 99 percent directing, you know?  It really, for me especially because writing these things and writing these things slowly -- I'm a slow writer -- so by the time we get to the casting process I've had this movie in my head for a year and a half, two years often, you know? So finding actors are going to come in and surprise me and infuse it with something that I didn't expect. That's what you end up looking for the in the casting process. That's where Emily came from. I mostly cast Emily just 'cause I had no idea what she would be like as a Western farm girl and I wanted her to show up and surprise me and find out.
So you've done the high school noir film, you've done the con man fable, you've done the time travel family values saga…
(Laughs) I love that! That's my favorite description of it ever.
What two genres are you going to mash up next? Are you looking for that water ballet Western?
Oh no, is it that formulaic? I don't know, man. I really love sci-fi, I'll say that. Sci-fi felt really, really good. And I love the opportunities that genre affords you on every level. To engage with very human stuff by using very fun ideas and big concepts and visually the places you could go to and it's such a wide expansive genre I feel like the couple of ideas I'm working on right now are both actually sci-fi films.
Is "Looper" ... I mean the critical response is great, we don't know how audiences react, but we know you had a great Premiere night ... but is this your calling card to say, "Dear studios, if you give me if you give me a vast sum of money, I will give you a profitable film?"
(Laughs). No, not at all. It's not. I think if you even start thinking of the word 'calling card' in relation to a movie you're on the wrong foot as a filmmaker. But I hope that with the next one -- and who knows if it'll be with a studio or not -- but I am very interested into trying to push further into the mainstream and seeing how wide we can go in terms of making a fun movie that's going to appeal to a lot of people that's also interesting in the way that we want our movies to be interesting. That's why Chris Nolan is so fascinating to me. Seeing him hit such a broad audience making these movies that are so distinctly his, that really fascinates me. That seems like the next frontier, I guess.
I sort of suggested that "Looper" felt a little bit like Nolan's "Inception."
God bless you.
In that it's this big special effects art house film.
Right. (Laughs) And that distinction between ... I don't know that's something as a moviegoer I've been thinking a lot about lately, how we do still have that I think very artificial distinction between big, fun movies and small, interesting movies. And I feel that there's, I don't know, the best stuff out there is that combines the both. And best big movies are the ones, like you said, that have what we think of as art house elements in them ... which to me is just code for interesting stuff.
Focus on characters.
Characters and surprise you, stuff that surprises you. I feel that audiences are, I don't know, there's Andre Gregory. In "My Dinner with Andre" there was that speech about that woman, that old woman he knew, who was rich and starved to death 'cause she only ate roast chicken. That's all she ate, and she would eat three meals a day but it's just roast chicken and she eventually was malnourished and starved to death. And I feel like just as an audience member, there's great stuff that's being made but a lot of the stuff that's out there is ... you know there's so much empty spectacle out there and I feel like people are just kind of sick of it. I feel like people want to be surprised when they get out of the movies. They want something thrown at them they didn't expect. They want stuff that reminds them of the feelings that you get when you're watching art house movies but with the fun of like a big summer movie.  That's the goal, I guess.
So your time machine, you hop in it, you go back 30 years, what do you tell yourself?
I'd stay the hell ... I'd stay in the machine. I don't want to f$&k with myself.
You'll stay where?
I'd stay in the machine.
Right.
I'd buy snacks and stay in the machine. Yeah, I would only f$&k myself up. I'm pretty happy, right now,  and I can't complain where I've ended up. I'm able to actually make movies for a living and I would probably say the wrong thing and then I would travel back to the present and find myself…
An insurance salesman?
At best. I'd probably just be under a freeway ramp. I'd just be so sad. (Laughs)
("Looper" opens this Friday in theaters; will this be Johnson's breakthrough film? Let us know on MSNMovies Facebook and MSN Movies Twitter.)