Weekend Box Office: 'Think Like a Man' Still #1
...at least until "The Avengers" take over the planet next weekend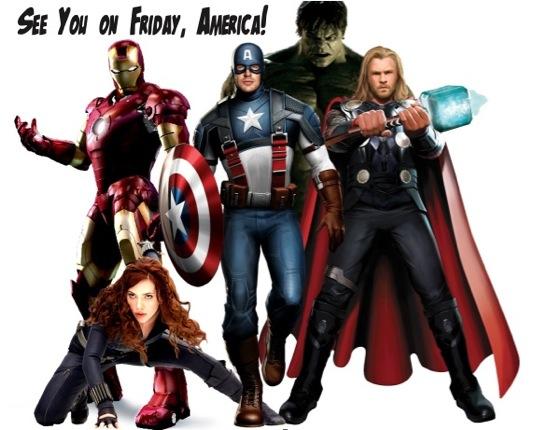 In a bleak weekend at the North American box office, "Think Like a Man" managed to hold on to the top position. Not great news for the weekend's new films and a sign of the overall sluggishness of ticket sales across the board. What's the deal? Was everyone home planning what they're going to wear to Friday's opening of "The Avengers?"

It's a bit surprising that "Think Like a Man" remained the #1 film with just a $18M take over the three-day weekend (at 2,015 theaters). Sony's 3D "Pirates! Band of Misfits"opened at #2, but its $11.4M bounty (at 3,358 theaters) pales when compared to first weekend numbers for most of the animated films of the past year. With $11.3M in ticket sales,"The Lucky One" was the #3 film (at 3,175 theaters), while "The Hunger Games" moved to #4, adding another $11.2M (at 3,572 theaters) to its healthy coffers (now over $372M domestically). At #5, Universal's "The Five-Year Engagement" had a very disappointing, lower than expected box office take of $11.1M (at 2,936 theaters), with many critics complaining that the film seemed about as long as Jason Segal and Emily Blunt's engagement.


Lionsgate's new Jason Statham action film, "Safe," opened at #6, earning $7.7M (at 2,266 theaters) while the Intrepid/Relativity thriller, "The Raven," starring John Cusack as Edgar Allen Poe, was at #7 with a $7.2M weekend (at 2,203 theaters). Disney's "Chimpanzee" fell to #8, bringing in $5.4M (at only 1,567 theaters) right alongside the #9 film, "The Three Stooges" which also racked up $5.4M (at 3,105 theaters). Finally, at #10, blood still spewed for "The Cabin in the Woods" which had a $4.5M take during its third weekend (at 2,639 theaters).

Is this miserable weekend simply the calm before the storm? Absolutely—at least as far as next Friday's "The Avengers is concerned, a film that has already raked in over $178M in foreign markets and is way ahead of all other North American films in terms of pre-sold movie tickets. I'm sure it's no accident that no other big studio films will be opening this week—who wants to compete with the Iron Man, Captain America, the Incredible Hulk, Thor, and the Black Widow? As for me, I'll be watching the limited release of the "The Best Exotic Marigold Hotel" next weekend, a superb indie starring Dames Maggie Smith and Judi Dench along with Penelope Wilton, a band of acting superheroes if I've ever seen one!