Extended look at 'Star Trek Into Darkness' will piggyback on IMAX release of 'The Hobbit' next month
Much in the way 'The Dark Knight Rises' was teased before 'Mission: Impossible - Ghost Protocol' last Christmas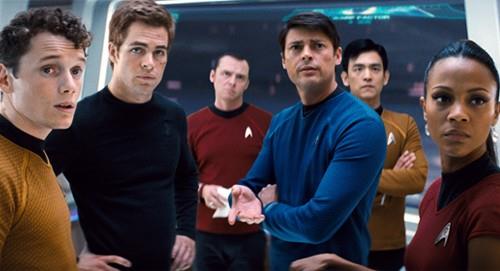 In some alternate universe, we'd be anticipating the DVD/Blu-ray release of J.J. Abrams' "Star Trek Into Darkness" right around now after its likely record-breaking run in theaters last summer. Of course, in this timeline, production delays actually saw the sequel bumped to next May, so we can rather look forward to seeing the first footage from the film this holiday season.
IMAX screenings of Peter Jackson's "The Hobbit: An Unexpected Journey" beginning on December 14th will be preceded by the first nine minutes from the film, about which little is known beyond Benedict Cumberbatch (also of "The Hobbit," oddly enough) joining on as the latest enemy of the crew of the Starship Enterprise. Meanwhile, regular showings will see the debut of a new trailer instead.
It's a tactic that Warner Bros. has pulled to promote Christopher Nolan's "Batman" sequels to buzz-worthy effect, and given that Abrams similarly shot several sequences with actual IMAX cameras, I'm sure that the end result will be remarkable at the very least. "Star Trek Into Darkness" opens on May 17th, 2013.