Check Out Ashton Kutcher In Character as Steve Jobs
We'll bring you clearer photographs as they become available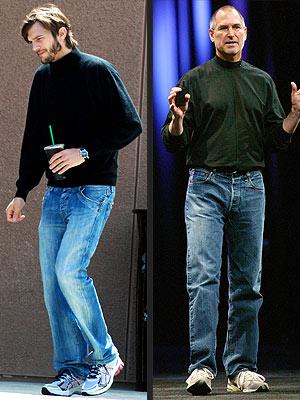 Ever since Steve Jobs passed away, Hollywood has seemed intent on cashing in on -- er, immortalizing -- the man on film. Like Johnny Cash, Howard Hughes, Che Guevara and Christopher "Notorious B.I.G." Wallace before him, Steve Jobs
would
get his own biopic.
Or two, as it turns out. First and foremost, there's Sony's "Steve Jobs," based on the eponymous, best-selling biography of the man written by Walter Isaacson. Then there's "Jobs," about the Apple co-founder's younger days; a film that seemingly exists only because someone noticed that its star, Ashton Kutcher, looks eerily like the man, circa 1984. (See attached photo.)
Never mind that the younger Jobs never wore the iconic turtleneck and jeans. We can only hope that Kutcher's outfit is simply indicative of his "method" approach to getting into character. (Because Kutcher is surely a student of Constantin Stanislavsky, right? We can only assume as much, having never seen "That 70's Show"  or "Punk'd." He was pretty good in "The Butterfly Effect" and those Nikon TV commercials, though...)
What do you think, Hitlisters? Does/will Ashton Kutcher make for a convincing Steve Jobs? If you had to see one Steve Jobs biopic, which would you see? And as for Kutcher's suspect facial hair, worry not, it's all legit: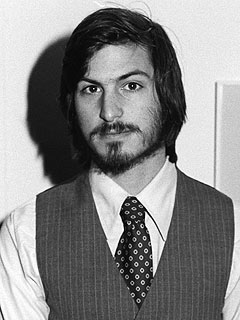 Is that the man himself, or Kutcher in character? We can't even tell! Brilliant!