Interview: Screenwriter Alex Garland of 'Dredd 3D'
Science fiction, inter-character friction, 3D and more ...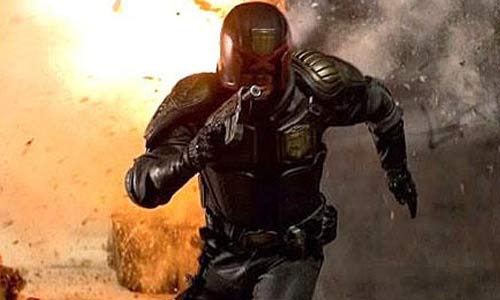 Known -- or, rather, perhaps not known -- as the mind behind such bold and sideways science-fiction films as "28 Days Later," "Sunshine," and "Never Let Me Go," Alex Garland doesn't look like a wise futurist with an eye for human frailty; clad in a flannel shirt and jeans, he's relaxed, explaining how to him, "Dredd 3D" is about not only taking a few chances with the standard-issue future-cop film, but also truly enjoying the possibilities of storytelling with 3D and more. We spoke with Garland in Toronto about "Dredd 3D," cop clichés and getting your money's worth from the violence on the screen …
MSN Movies: When you got a character who has such a pop culture history as this -- back to the Carter years, 1977, in fact --
Alex Garland: ... Back to the Iran Hostage Crisis or something.
When you have 35 years of material to work with, is it like making soup from an ostrich? Do you have to boil down this huge carcass?
No. Actually all I had really to do was … I'd started reading it when I was ten. I was born in 1970 so it'd been going for a little while by then, but my associations with the comic begin when I'm ten. And I think really what I was doing, I can say this retrospectively as I was tapping into the effect it had on me back then, which was played very straight as a kind of sci-fi fascist cop story, but I was missing a lot of the fascist stuff. I was missing a lot of the subversive stuff. I was missing a lot of the social commentary and the satire.
Bing: Alex Garland | 'Dredd 3D'
He's like his own critique.
He is, yeah. And that stuff is in the film by implication, I would say, you know? There's different ways you can approach that kind of subtext in a film. You can either put a sign post on it and say, "Here's a subtext. Look at it." Or you can make it implicit. And I think what we did was we took the implicit route. If you have a police state with a cop that executes people without any due process, they are in some respects, if you're a democrat, an antihero. And you don't need to signpost it more than that. People hopefully, either they're interested or they're not interested, and if they're interested they can then go on their own process, I guess.
But what's that great line about how a liberal is a conservative who spent a night in jail and a conservative is liberal who's been mugged?
(Laughs) Yeah, and actually one of the things about "Dredd" is that if you look at the people who created him, what you'll find, a lot of people who's watched this film I think would find, is that they are as it were coming from a left wing perspective, but what's their wish fulfillment? Their wish fulfillment is a fascist cop who doesn't have to go through any of the arguments or discussions that they internally have to go through. He would just go in there and shoot the guy. I think that's the key to "Dredd" that he's actually the wish fulfillment. He's like a liberal wish fulfillment. It's perverse like that, but I kind of like it.

How soon did you go, "We're not going to do any of the classic story lines? We're just going to gin up a great situation, and we can shoot with the budget we have for these characters"?
The first story lines I approached were retrospectively…  you'd say we would never the budget to be able to do them, but they were big epics and stuff. I always knew it we'd never have … when I first sat down I thought we were going to have 20 million dollars at most to be able to make this film, but I also don't think about budget in that way when I'm writing. I will write the stuff that I think is appropriate for the story and then we figure a way to try to do that with the kind of resources we've got. So this story did not stem budget. It actually stemmed from trying initially to tell stories that were too big in their scale and then needing to condense them down to something pithier and harder and more reductive.
I mean, bottle stories do have a certain economy in storytelling and in production.
They do, yeah, they do absolutely. That is true. I'm just saying it wasn't part of the, it wasn't a motivating factor. It was a happy accident. For example, to give another…
Please.
… equivalent. The film is shot in 3D, we have as our key location a big building which has an atrium that runs right down the middle and we have a drug, hallucinogenic drug, that creates lots of strange floating particles and depth…
Puts everything in slow motion.
Indeed. Now that drug and that building were part of the plot way before we ever knew we were going to make it in 3D, so you could say it's the sort of sequence of events. It's a happy accident that we had things that then become useful.
The slow motion drug, long places to fall…
Precisely.  So they look like they're 3D choices but they're not. It was more the, actually where 3D was concerned was the point we were raising finance it was about two months after "Avatar" came out we had no choice. It had to be a 3D movie. That was the reality of the industry in that window of time. Once we knew it had to be 3D, we then embraced it and tried to find out ways to do it. But we didn't then create a bunch of plot devices that meant people were falling down buildings and taking hallucinogenic drugs. They were doing it already, you know?
So the depravity came first?
(Laughs)
There's a lot of blood in this. There's like latex meat puppets to suggest people have fallen 200 feet, there's SLO-MO people getting shot through the jaw. You see a great moment when the blood even comes out and over the black matting in the 3D. At a certain point is it just cartoon-ish? At a certain point is it just go for the gusto 'cause you can?
No, I hope not.
Right.
Not in intention. This begins, in a way with watching nature documentaries and me getting fascinated with so you're watching a documentary and you're seeing and image within a documentary … of a salmon leaping out of the water and a bear swiping it with its claw, and it cameraman has shot at very, very high speed and plays it back to you high speed, and this funny thing happens when you get hypnotized by the image and you start to think about the way water droplets separate or reconnect. Normally within a narrative that's a bad thing 'cause you pull someone away from what's happening. But these hypnotic images had a quality, which kept you connected to the bear or the water and the salmon but also took you on your own separate little journey about esthetics. And then the question was in a medium which glamourized this violence helplessly even when it pretends not to, what can you do with these high speed nature documentary hypnotic imageries when they're applied to violence? Is there a (a way) where you can make somebody impacting on the ground after a 200-story drop transcend the moment of a violent death and become really and abstract image of stars and light and make something lyrical and poetic out of that thing. Now you think I'm bullshitting, but I swear to you I'm not.
No, Miss Thirlby and I were talking upstairs about how when someone is shot in slow motion you just see a crimson flower of blood bloom from their face.
Yeah, so there was a lot of talk with the imagery. The tones of the imagery were things blossoming and stuff like that. And I remember years and years ago when I worked on this film "28 Days Later," a very violent film, and I remember being aware that there's a kind of disingenuous thing that happens when you have to talk about a film that you're expected to say violence in cinema is kind of cathartic and to pretend that is has, that everyone's a kind of expert on the effect it has on an audience and on a viewer and that kind of thing. Partly "Dredd" is kind of just saying I don't really know if that's true.
Is it important to find places you can break the rules of genre in genre films so you can turn them a little bit?
I think so, yeah. I see genre's free gift, okay? You have a shorthand that the audience knows where they are very very quickly, but you can also then play with those expectations. You get both things immediately within moments. I like that very much. If you put, right, say in a film like "Dredd," if you put a pretty girl and a handsome guy even if he's a total bastard, right? If you put them together at the frontend of a film, there is an expectation on the part of the audience that there will be a sexual chemistry between them. It's just in the rule of narrative.
But if you deny people that in many ways, it's more satisfying for them than giving it to them.
That's the thing. There is no sexual chemistry between our two leads whatsoever. There's none, and as soon as people unconsciously start to detect that even though here they are watching the cop and the rookie, they've seen it a hundred times before, they also know that something's happening that doesn't quite fit the tropes that they're so familiar with and hopefully enjoy that. And by the way, some people don't; some people hate that.
(Laughs)  Speaking of tropes and since we're at the Toronto Film Festival, I am such a huge fan of "Never Let Me Go."
Oh, thank you.
I think that's a masterful film, I think it's moving, I think it's brilliant. Did it feel for you like it got hurled under the bus by audiences, that audiences did not quite know how to wrap their heads around it?
Honestly, what I think is that I've had one kind of accidental success I guess in the past, but basically I don't find mainstream audiences for the stuff I do. That's the reality of it, and I've had to condition myself I suppose to not feel disappointed in that. What I do find is that…  So I worked on the films "Never Let Me Go" or "Sunshine," which are then perceived certainly as disappointments.
Not by me.
Not by you, and I appreciate that. But in the more general sense, they don't perform in the box office in the way that they need to in order to justify their existence in a business sense.
Right.
Not in a creative sense, but in a business sense. But what I've found is over the years every now and then I will meet somebody who says, "I really loved 'Never Let Me Go' or I really loved 'Sunshine.'" It sounds trite, but that literally makes it worth it. So do I feel bad about it? No, I don't. As long as I can somehow keep persuading people to back and finance the films I'm trying to make I'm basically all right with it.
("Dredd 3D" opens in theaters next week; does Garland's smart sci-fi have an audience in our day and age?  Let us know on MSN Movies Facebook or through the MSN Movies Twitter.)