Interview: Director Brandon Cronenberg and Actor Caleb Landry Jones of 'Antiviral'
On flesh, father issues and famous flu infections ...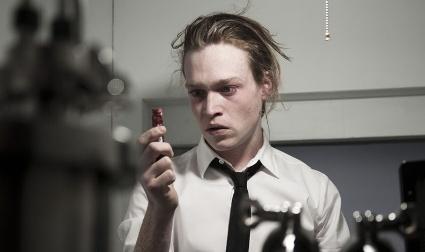 In "Antiviral," Caleb Landry Jones ("X-Men: First Class," "Friday Night Lights") is a salesman and tech for The Lucas Clinic, a boutique genetic-engineering company that infects clients with the same diseases as their favorite stars, taken right from the famous and sickly DNA in the ultimate extension of fan worship. If this sounds like an idea worthy of David Cronenberg ("Videodrome," "Cosmopolis"), it should be noted that "Antiviral" director and writer Brandon Cronenberg is the son of that famed body-horror director ... and with his debut film, makes it clear that he's both is father's son and a talent to recognize in and of himself. We spoke with Cronenberg and Jones in Austin at Fantastic Fest about having your dad as your influence, the strange science-fiction (and science fact) of the film's look at fame as a disease.  
MSN Movies: Let's start with the big idea in the film, which is celebrity viruses as the ultimate luxury item: They're expensive, they revolve completely around imaginary status, and they're useless.

Brandon Cronenberg: Right.
Where did that creepy idea come from?
Cronenberg: (Laughs) I was just incredibly sick. In 2004 I was in film school, I was wrestling with this flu and I had this fever dream and I was obsessing over the physicality of illness…
Jones: Isn't that great? The fever dream? To lead you into something? The Fever Dream.
Cronenberg: (Laughs)
And you were just sitting there sick, but what's the jump to "What if I were sick with George Clooney's flu? Would that be better?"
Cronenberg: Well, I was thinking about the physical nature of illness, and it seems not very physical in some ways, the contagion, but we actually have this physical thing in our body that comes from someone else's body. There's an intimacy to that. You know, literal physical virons built by someone else's cells that are penetrating your cells. And there's something intimate there so I was trying to think of someone who could see disease as an intimate thing, and I thought of a celebrity-obsessed fan who would want Scarlett Johannson's…
                                                             BING: Fleet Street Edible Fake Blood | Virions
As the phrase goes, I want your disease in me.
Cronenberg: (Laughs) Yeah, precisely.
Mr. Jones, I watch this film and I was curious how, as an actor, do you prepare to play sick, because it's got to be exhausting. You have to look like hell, you have to have bad skin, they're misting you down…
Jones: The makeup they did, they were great makeup artists you know.
But is it mostly makeup and the rest of it just an occasional twitch and a nauseated look? You look deathly ill.
Jones: (Laughs) Great, great, great. We got that, good. That was a crash course, and I feel like every character is a crash course and just you don't know how to go about it. Sometimes there's ideas you see, you get a vision maybe, but you're not quite sure how to -- I've never done something like this before, you know? Not professionally. Also, I winded up very sick for a long period of time and I didn't understand why. It was when I was filming "X-Men." I had tonsillitis and it lasted for about six months.
Did they eventually pull them?
Jones: No, I still have them. But then it went away for a bit and then it got back. It went away, it came back, it went away, it came back, it went away, it came back, and I was sick of that. I've never been this sick in my life, and I didn't know why. At the time I still believed everything happens for a reason so I was trying to figure out why. You know, what did this mean? But I knew to hold on to remember it because at some point it would be useful along down the line and read the script a year later and it made perfect sense.
So you were hanging on to the coughing, the twitching, the sweating in case one day you had to do a gender-flipped version of "Camille."
Jones: (Laughs). No, it's just as an actor you have to be aware of everything that's happening all the time because this is how you can, you know, this is (happening) to you and to take this and then maybe there's a character or something, a scene, or this is very close to how I felt there. It's not the same emotion, but it'll work, you know what I'm saying?
It's a library of stuff you access for preparation.
Jones: Exactly, exactly. Subconsciously and not subconsciously, you know what I mean? It's very strange the way it happens, but it's beautiful. I love it.
So let's talk about the tumor-riddled elephant in the room. I mean, I saw "Antiviral" at Cannes…
Jones: That's a good one.
Cronenberg: Everyone (says) elephants. No one has done tumor-riddled elephants.
Jones: That's good.
… And as a side note, I said, perhaps unkindly, that this movie could be directed by Vanessa Finklestein, and by the time you finish watching it, if you had retinas and a knowledge of popular culture you would say, "Holy God, Vanessa Finklestein likes a lot of early 70s Cronenberg."
Both: (Laugh)
Black and white, evil IKEA set design, bilaterally symmetrical composition, great practical effects … is it that at a certain point you just flip the table and go, "Screw this. I'm doing this, and I don't care if people say that the apple doesn't fall far from the tree?"
Jones: Yes. I think everyone did that in a way as well you know? This is the beast. Take on the beast, you know what I mean?
Right. The best way to get rid of the elephant in the room is by plunging a spear into his heart screaming, "I take control of you?"
Jones: Yeah.
Cronenberg: Not even that. To disregard the elephant, in a way, because that wasn't also deliberately raising it. It was just what I wanted to do and so it was just a matter of, I don't know. It's what's interesting to me, and I didn't want to…
And also when Sophia Coppola makes movies about being super rich and trapped in hotels nobody says to her, "You're clearly ripping stuff off from your dad."
Both: (Laughs)
Nobody ever says that. Did you learn anything about genetic engineering, Mr. Jones? Or was your preparation simply saying "I'm gonna rock the gene-altering machine. I'm going to sweat. I'm going to occasionally mock-shoot myself up"?
Jones: There was no thought into it whatsoever. (Laughs)
Oh, c'mon. But I mean at the same time we do live in an age with these kind of casual miracles, right? At some point, aren't we going to see over the counter genetic products on a consumer level?
Jones: I think so, too. (Laughs)
How scary is it when you extrapolate that? Was it an interesting look through the closet door into a future that might not be great in some of the ramifications of this film's idea?
Jones: Coming from Texas and moving to Los Angeles, there was that shock. There was that shock of, you know, what I was really getting into, the nightmare of, the hell that I was possibly getting myself into. I became very busy before I got "X-Men: First Class." When I got "X-Men" I realized it was over because now I either had to keep going or I've got to stop, you know what I mean? But I couldn't stop because…
You were at a point where what happened next was entirely up to how hard you worked.
Jones: Well, that's always the case.
Right. But…
Jones: That's always the case in life, in everything I believe. But, and so this script was saying the exact things that I was dying to say, you know, to the talent of Los Angeles to the culture to the industry. I came to the industry with wide eyes and an open heart thinking I was going to make a few films that really meant something that I could pour myself into. And everything I was reading was not. And so "Antiviral" (was) straight from God -- you know what I mean, that's how it felt. I couldn't believe that it would have been written by Brandon, that this was happening. 'Cause I hadn't seen anything like it.
And so contrary to the tone and tempo of Hollywood, the town where celebrity is its own religion.
Jones: Exactly. It was perfect.
Last night I watched you leaving the Q&A and a young lady said, "Put on my cowboy hat and take a picture with me." Is it hard not to imagine, as a next step, "Please infect me with your blood"? Is it weird to be on the other side of that because you were in a really big summer blockbuster? People go, "Oh! You're that guy ..." ?
Jones: Luckily it hasn't been an issue so far.
Because you only just started wearing black and yellow outfits?
Jones: (Laughs) No, the only time it's been an issue has been so far in a festival, and I've never been to a festival before. But when someone knows me because they've looked on the Internet, they know I'm going to be there … ? They've just waited and, "Oh, that guy looks kind of familiar. ….." You know whatever it is. That's the only time that I've ever really had to deal with (that); most people don't recognize me so I'm very lucky in that way. Hopefully I can keep (working in what I like).
Get the kind of roles you can disappear into.
Jones: Yeah, yeah, yeah. That'd be a dream come true.
Would it be okay to say that as much as a new movie has some echoes of commonality with your dad, there's also a little touch of William Gibson in there, like in terms of the street finding uses for things and consumer technology?
Cronenberg: I'd love to have people see a little (Gibson)…
Jones: (Laughs)
The name of your rival company, the enemies of The Lucas Clinic in "Antiviral" resembles the name of the evil company Tessier-Ashpool in "Neuromancer …"
Cronenberg: I hadn't thought of that, but you're right …
No one is going to care about this super-nerdy section of the interview.
Both: (Laugh)
Jones: Keep it in, though! Keep it in!
When you're working on something like this, do you just go through similar material like a shark eating what you want to and discarding what you don't? Or is it all unique: "I'm going to think about this and I'm not going to think about how other people have tackled it."
Cronenberg: You know what? I wish it was the shark thing because that sounds cool. It's just absorbing a ton of that stuff over the course of my life and then looking at …I wasn't trying to reference stuff, but I've been very affected by all of those things so it was sort of an indirect (influence).
Mr. Jones, you're from Texas; Texas is known for its cuisine. How bad does fake blood taste, and if you could, would you improve the taste of fake blood with anything like a dash of lemon or touch of hot sauce?  It's mostly corn syrup-based, right? Is it really sweet?
Jones: Yeah, very sweet.
What would you do to cut that sweetness a little bit?
Jones: It looked so good that I don't know if I'd change the recipe just because the way it looked. It was very, that was nice. Whatever the brand-name of the blood, I don't remember what the brand name is of the "blood" you can put in your mouth…
Cronenberg: Fleet Street ...
But it was the edible faux blood, and you found it tasted delicious just right out of the jar?
Jones: No, it was awful, but I mean it looked so good. I think that a little lemon might help the taste…
("Antiviral" is making its American Premiere at Fantastic Fest; for more on movies, check out  MSN Movies Facebook or the MSN Movies Twitter.)
Are you sure you want to delete this comment?