First Poster for Festival Hit 'Sleepwalk With Me' Is Appropriately Tired
Mike Birbiglia has a dream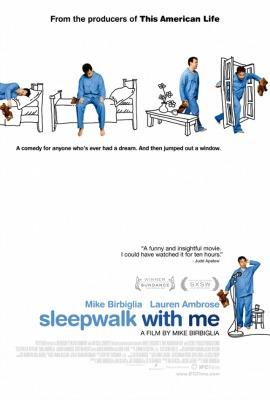 While most people who make a movie about their own lives might hedge to the side of, oh, making themselves look
good
, comedian Mike Birbiglia pulls no such punches in his "Sleepwalk With Me." Based on the comedian's one-man show of the same name and his 2010 memoir, "Sleepwalk With Me and Other Painfully True Stories," Birbiglia directed, co-wrote, and stars in the film, which centers on a loosely imagined version of himself. Who is kind of a jerk, but in an endearing and amusing way.
The film premiered at Sundance, and back in January, I
reviewed it
and lavished some praise on it, including the observation that "Birbiglia has done something very difficult with 'Sleepwalk With Me'
-
he's adapted his own work for the screen in a way that is engaging, hilarious, and accessible to people with even the most cursory knowledge of the comedian."
Don't know who Birbiglia is? That's fine, you don't need to know him to enjoy his film. In "Sleepwalk With Me," Birbiglia's character struggles with some very basic problems - he's unsure about his relationship (with a very funny Lauren Ambrose) and he's struggling with his career of choice (as, yup, a stand-up comedian). As much a film about the hard realities of the stand-up game as it is about early on-set midlife crises, "Sleepwalk With Me" is a rare bird: a comedy that people can actually relate to and enjoy. With bonus sleepwalking.
"Sleepwalk With Me" opens on August 24. Check out a larger version of the film's first poster, thanks to
The Playlist
, after the break.