Spielberg Regrets Updated 'E.T.'
Vows to release only the original versions of it and 'Raiders of the Lost Ark' on Blu-ray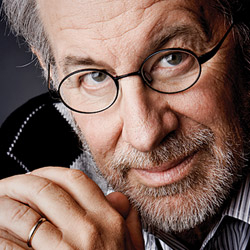 His inexplicably proclivity for following up portentous awards season fodder with seemingly junky genre fare notwithstanding, Steven Spielberg might be the Hollywood paradigm of artistic integrity. (Admittedly, that's not saying much.) Always ready to admit his mistakes, Spielberg exudes an admirable willingness to let past be past. George Lucas, are you taking notes?
After a (recent) special Los Angeles screening of "Raiders of the Lost Ark" to commemorate that film's 30th anniversary, Spielberg (plus a special guest) took to the stage for an impromptu Q&A. All Things Fangirl has an extensive transcript for those interested in the full scope of the conversation, but for everyone else, the main takeaways were these: Spielberg counts George Lucas among his lifelong besties, and fully supports his friend's right to do whatever the heck he wants to "Star Wars" no matter how terrible it might be; Spielberg, for his part, fully regrets changing a single frame of "E.T." for that film's latest theatrical rerelease (when he caved to pressure to make it more "family-friendly" by, for example, digitally replacing every gun with a walkie-talkie); and, most important, Spielberg has learned from his mistakes and will release the original, unadulterated cuts of "E.T." and "Raiders of the Lost Ark" only on Blu-ray.
Should Spielberg be commended for such thoughtful consideration of our childhood memories? Is an honorary Oscar of some kind perhaps in order? Or does his producing work on the "Transformers" series obviate all that goodwill? As always, let us know in the comments!