Videodrone News: Hitchcock "Masterpiece Collection" Blu-ray Delayed
Scathing reviews of the new Hitchcock Blu-ray box set in England causes Universal to push back release to fix the problems
By 
SeanAx
 Sep 16, 2012 12:24PM
The home video forums and reader boards are aflame with the news: The long-awaited Blu-ray box set "Alfred Hitchcock: The Masterpiece Collection" (Universal), originally scheduled for release in late September, has just been pushed back five weeks to solve what appear to be egregious issues with the HD mastering, use of digital video noise reduction (DVNR) of the image, audio mixing, and even glaring typos in one newly-created credits sequences.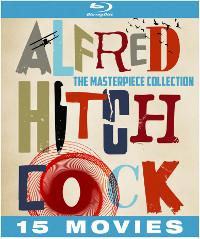 Reviewing the British Blu-ray release from an advance copy for the British magazine Sight and Sound, Nick Wrigley (founder of the Masters of Cinema label in Great Britain) found enormous problems on a few of the film in the set and started posting preliminary notes on the issues on his website Enthusiasm.
While he gave many of the discs received high marks, he took Universal to task for a couple, including "Frenzy":
"A completely re-rendered opening credit sequence for this new HD master introduces typographical inconsistencies, wrong fonts, typos, and multiple errors in crew members' names. Parts of the film are slathered in noticeable DVNR which causes undesirable effects. I can't recommend this disc. Dear Universal, when the credits get fixed (which hopefully involves simply putting the original credits back, regardless of softness or damage), please dial back the DVNR across the whole film too."

Universal has a spotty record already when it comes to mastering their classics for Blu-ray. Their recent "Jaws" was a success story, but before that "The Sting" was roundly condemned and film restoration guru Robert Harris took Universal to task for the poor digital master of the Blu-ray release of "Spartacus," which he restored on film for its 1991 re-release.
Getting Hitchcock right is something that matter to movie lovers. He's one of the most revered and celebrated filmmakers who ever lived and his filmography features some of the greatest films every made, including the newly anointed "Greatest Film of All Time," "Vertigo."
So before the outrage could snowball into scandal, Universal Studios released this statement:
"Universal Studios Home Entertainment is postponing the Blu-ray release of Alfred Hitchcock: The Masterpiece Collection to October 30, 2012. Certain imperfections with the product have come to light and, as a result, we are delaying the release date to correct these points. Our goal is to always deliver the best possible product to our consumers."
Are you sure you want to delete this comment?