Videodrone Essentials: 'Cabaret' at 40
Bob Fosse's superb adaptation of the Broadway musical won eight Oscars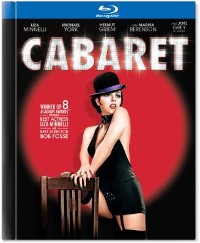 "Cabaret: 40th Anniversary" (Warner)
Bob Fosse's superb adaptation of the Broadway musical redesigned the show to make a musical for a modern audience -- every song is organic to the film, arising from a "realistic" situation, while still performing as commentary, dramatic counterpoint, or emotional expression, and the change required new numbers to be written for the film -- and even rewrote some of the book by returning to the original source material (the play "I Am a Camera" and the stories of Christopher Isherwood). The resulting film won eight Academy Awards, including Best Director for Fosse and Best Actress for Liza Minnelli. It lost out the Best Picture Oscar to "The Godfather."
Your master of ceremonies Joel Grey (who won an Oscar for recreating his Broadway role) welcomes you to this portrait of the Berlin of the Weimar Republic, which charts the end of the flowering of German arts and the growing power of the Nazi party through two intimate stories and the burlesque songs of the cabaret. Fosse's "divinely decadent" touch brings a garish energy to the music hall performances, all the better to counterpoint the ironic "Tomorrow Belongs to Me," or the moments of violence outside the club. Michael York plays the Isherwood role, a young British writer named Brian Roberts who befriends American singer Sally Bowles (Minnelli), and Helmet Griem and Marisa Berenson co-star.
Brian Reesman revisits the film with members of the cast at MSN Movies here.
Continue reading at Videodrone here.
For more releases, see Hot Tips and Top Picks: DVDs, Blu-rays and streaming video for week of February 5